InfoKekinian.com – For the most part, Indonesians rely on Android phones and tablets. On the other hand, presentation applications on cellphones can now be accessed by everyone.
Submission of proposals or reports no longer has to be bothered by meeting in person and using a laptop. A collection of presentation applications that you should use for Android. As well as being free, some of them can be shared and linked to a laptop.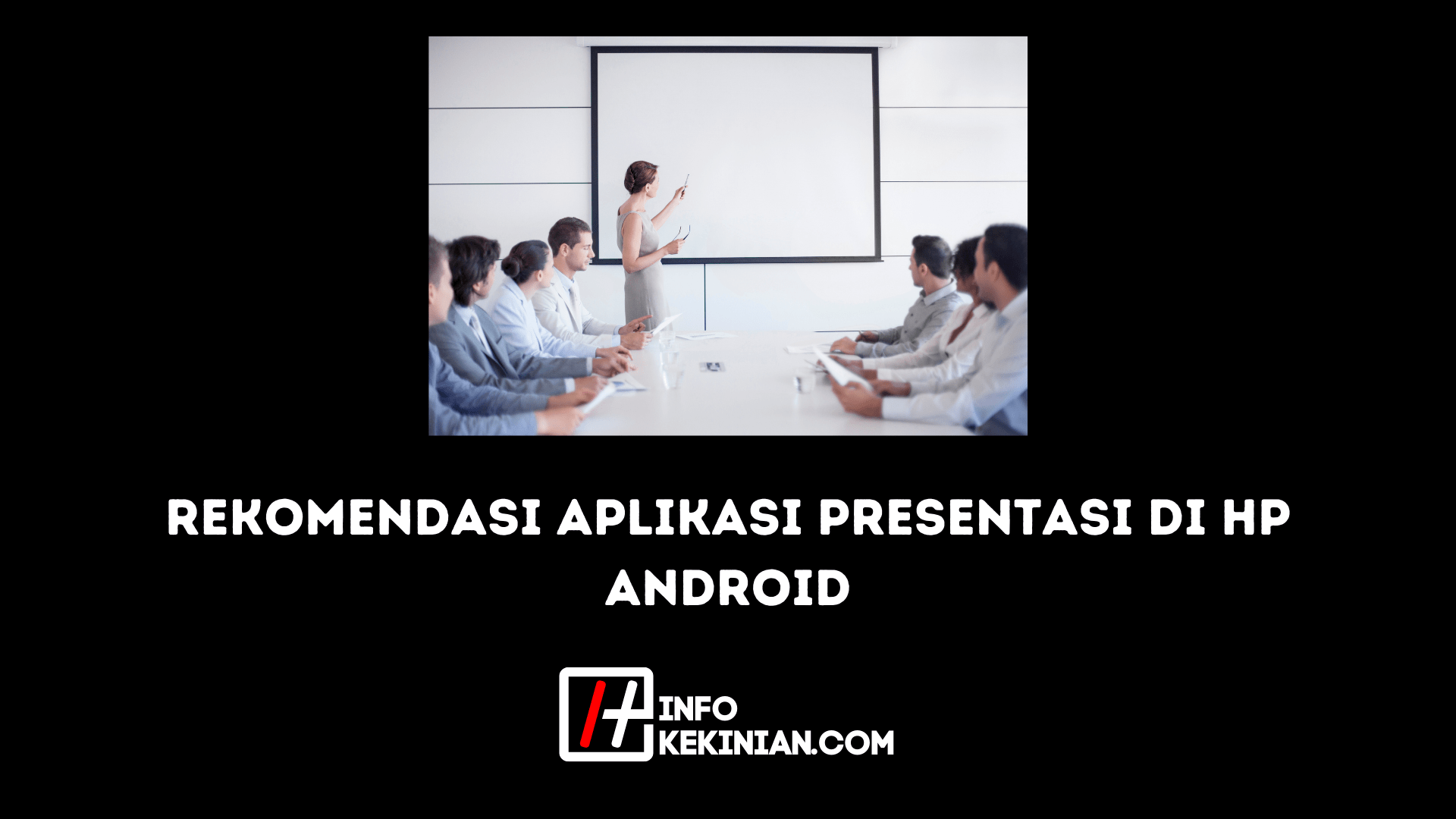 Applications for Presentations on Android Phones
Here's a list of some of the presentation apps we recommend.
1. Google Slides Presentation App
Number 1 on the list of Android presentation applications is Google Slides, which is just as impressive as its predecessor.
You also don't need an Office 365 membership to access the full functionality of this presentation application. You can quickly create and modify presentation files in Google Slides.
But unfortunately there are limitations to this application, to be precise when you want to use Google Slides you have to be connected to the internet. It is also important that, if giving a presentation, you have a good connection or are in an area where wifi is available.
2. Microsoft PowerPoint application for Android
If you just found out that Power Point can only be accessed on a PC or laptop, you are wrong. Now that Power Point is available for Android, you no longer need to bring a PC or laptop to give presentations. Like the PC version, it has a full set of functions.
Your presentation files on OneDrive, DropBox, SharePoint, and Google Drive can also be accessed outside of the program's internal storage. To use Power Point in the Android application, you must register for an Office 365 account first, then log in.
3. Prezi Viewer application
If you previously used the Prezi application on a PC or laptop, you don't need to worry anymore if you want to view files on Android using the Prezi Viewer application.
You can show files that you have prepared without needing to bring a laptop or PC. Its dynamic appearance makes Prezi Viewer the choice of many people.
By using the Android application, you can also make changes to the files you have created. Even though it lacks some of the more advanced capabilities found on the PC version, this Prezi Viewer might still be useful for those of you who want to stand out from the crowd of PowerPoint users.
4. WPS Office application
Since most of the apps are default when buying a new phone, Android users are no strangers to this particular app. WPS is a complete application, besides being able to edit and display PPT format files, you can also edit and generate other files such as Word or Excel, and PDF.
For those of you who don't have a PC or laptop that need to print important files, WPS wireless printing capabilities are very useful.
Even though there are some advertisements that will be displayed, they are not too disturbing. The app is free so make sure you try it too and it comes with WPS.
5. Presentation Smart Office Application 2
This application has been available for a long time, much older than Microsoft Office. Besides being able to take PPT files and display them, additional files such as Excel, Word, and PDF. With this application, you only need to access GIF and Graphic Vector files.
If the file you are going to send has a bit of a problem, you can use the edit function to fix it. If you need to print any important files, Smart Office 2 now features a Print option to make it easier for users to print presentation files.
6. Showpad Presentation Application
If you assume that presentations must be in the form of PPT files, you are wrong. Showpad is an application that can be used to display files that are not in PPT format.
But don't worry, if you have previously prepared a PPT format file, you can still access it using the Showpad application.
This application supports various file types, including PDF, PPT, Word, and image files in JPG and PNG formats. Showpad has a nice appearance, so of course it creates a different impression from the presentation you make.
Instead of bringing your laptop with you, check out these Android presentation apps. So you don't need to be confused anymore if you don't have a laptop if you want to present it, just download the application and put it on your smartphone.
All these programs not only make things easy for you, but also include additional features that are no doubt very useful.
Conclusion
So, those are some applications that you can use for presentations using Android, the above applications can also be accessed using a laptop. Hopefully useful!