InfoKekinian.com – Since the government decided to conduct learning online, many teachers have used applications to create learning animations, not only making it easier for teachers to teach, but making children understand the material being taught.
Animated videos are often created using desktop-based applications. But along with the times, now you can make cool and funny animated films with an Android smartphone by utilizing third-party applications.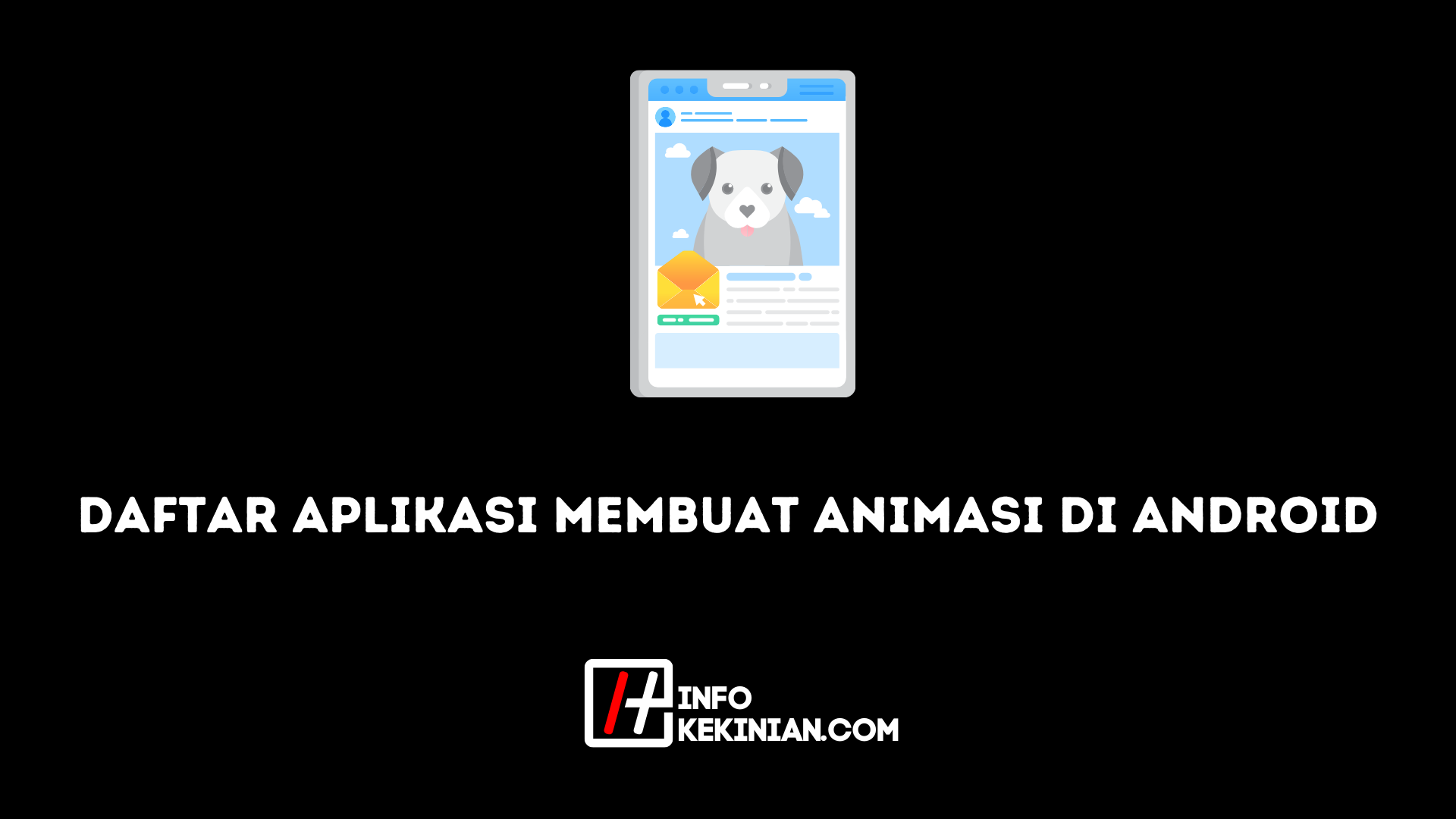 Applications for Making Learning Animations on Android
Infokekinian will provide several applications for making animated videos for Android users.
1.Draw Cartoons 2
You can use the various tools in the Draw Cartoons 2 app to create basic artwork. Besides being able to create all the cartoon elements, you can also draw any type of character you want.
Furthermore, you can easily turn your work into a video so you can view it offline and share it on your favorite social networks.
2. FlipaClip – Learning Animation Making Application
FlipaClip, an animation film making app for Android, is just as cool. Through the application from Visual Blasters LLC, you can create cartoon animations using frame-by-frame stages.
The way it works and the results may be very similar to the animation creation in Flip Book. However, the app offers more extensive capabilities, such as animation timers, Onion Layers, frame control, and more.
For those of you who have a Samsung Galaxy Note and the like, this application allows the use of the Samsung Pen which is usually found on handsets equipped with a Stylus Pen. That way, you can easily make animated videos on your Android smartphone or tablet.
3. PicsArt Animator: GIFs & Videos
Success with the image editing application he built, the developer who made the PicsArt application has now succeeded in building an application called PicsArt Animator which allows you to make basic animated videos and cartoons.
There is no need to have prior animation knowledge to use this application, thanks to the inclusion of features such as frame duplication and a comprehensive set of tools. Those who are new to the art of creating animated videos will be able to create something really cool with this app.
This PicsArt app allows you to get things done, such as creating animated self-portraits, custom animated stickers, and custom emojis.
4. Stick Fighter – Learning Animation Making Application
Using a frame-by-frame animation method similar to Flip Book, Stick Fighter can create hilarious animated videos. Later, you will create a character that looks like a stickman so that it can be animated to your heart's content.
A good example is creating an action-themed animated film where your character engages in combat with various weaponry. Don't worry, the application built by Tweber is easy to use.
5. StickDraw
Do you want to make a quick and easy GIF video? It's easy, using the StickDraw application you can create moving animated movies with the basic tools offered, be it stickman figures, GIF numbers from 1 to 10, and so on.
Starting with Freeform and moving on to lines, rectangles, triangles, and so on, there are plenty of basic tools at your disposal. For the number of frames itself, you can make it according to your needs.
Once you've finished creating your animated movie, you can save it to your phone's gallery as a GIF or MP4 file.
6. Animation Desk – Application for Making Learning Animations
Animation Desk is one of the top animation video maker software for Android which has very complete features. Before that, you must first sketch the object you want to animate, for example people, animals, and so on.
What's interesting about this application, the tools provided are almost the same as those used for painting or sketching. Among them are pencils, crayons, pens, three kinds of brushes and erasers.
After the image of the item that you produce is complete, all you have to do is adjust the placement of the object frame-by-frame as needed. It is possible to change the frame rate from 3fps to 24fps, of course (frames per second).
7. Animate it!
If previously the application for making animated videos only mentioned 2D objects, it is different from an application called Anime it! which allows you to create cool animated movies in 3D or 3D.
The creators have offered a wide variety of characters that you can choose after. Well, you only need to choose a character and mix it with other items, such as hats, toys, and so on.
Once you've finished creating an item, you can use it to create an animated movie of up to 32 frames. Of course, if you are not satisfied with your work after viewing it, you can go back and make changes on the spot. I know
8. Stickman Animator
Too complicated to make animated movies from the previous application? Maybe Stickman Animator is the ideal choice for you. Because it has a simple design and functionality, this Android animation video maker application is suitable for beginners.
It's possible to create animated videos of walking stickmen as well as other moving objects, such as a dog walking around or a gun firing bullets at a target, among other possibilities.
9. PicPac Stop Motion & Time Lapse
Who doesn't know the Stop Motion animation technique? Yep, an animation approach where we create objects that are physically moved to make them appear to move on their own.
Now, by using an application called PicPac Stop Motion & TimeLapse, you can make cool Stop Motion animated videos using photos from the gallery or record them directly with the camera through the available options.
Interestingly, you can enhance your Stop Motion movie with music. The video results that you produce later can easily be saved in 360p resolution.
If you want better quality videos like 480p, 720p, or 1080p videos, you should update the program to the Pro edition. Besides being able to adjust the video quality as desired, the Pro version can also remove the watermark so it doesn't interfere with the display.
10. Stick Nodes: Stickman Animator
With Stickman Animator, you can easily animate stickman fighting in a cool way using the best animation movie maker app for Android: Stick Nodes. When creating an animated video, you might include sound effects such as a punch or someone falling.
The work that you are about to create can be played immediately because it contains a preview option. You don't need to worry if you make a mistake, because this application produced by ForTheLoss Games also has redo and undo options.
Conclusion
So, those are some applications for making learning animated videos, current friends can directly use the applications above that we have recommended. Hope it is useful!