InfoKekinian.com Have you ever experienced a blocked WhatsApp account? So, this time Infokekinian will discuss several applications for unblocking wa.
However, there is a way out of this jam. How to unblock WhatsApp can be done through the application. Unblocking WhatsApp has never been easier, thanks to the emergence of many powerful tools.
Users can use a VPN to bypass restrictions on WhatsApp. Virtual private networks (VPNs) have hundreds of servers located around the world, making it possible to bypass country-specific WhatsApp restrictions.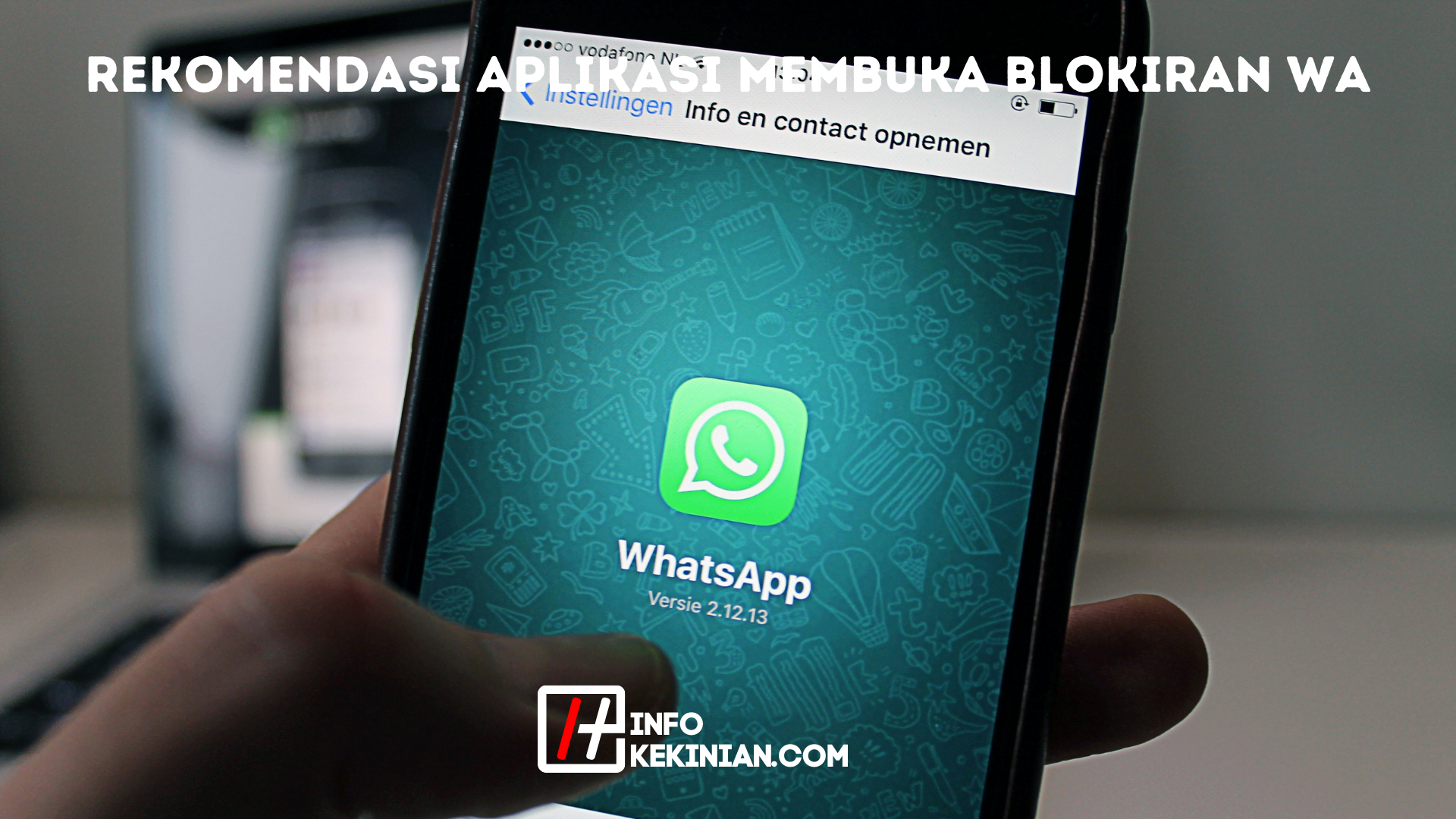 Application for Unblocking Wa
We will provide several application recommendations for unblocking wa.
1. Wa Express VPN Unblock Application
One of the recommended programs for unblocking WhatsApp is ExpressVPN. A very strict no-logging policy governs the use of this software. IP obfuscation is available on all VPN services, including ExpressVPN.
The ability to unblock popular apps like WhatsApp and Netflix (as well as others) is now within reach of most people.
Apart from that, ExpressVPN can also identify data or DNS leaks. However, to take advantage of it, consumers have to spend 187 thousand each month. In terms of privacy and security, this application has features such as Kill-Switch, AES-256 encryption, Linux, and others.
However, this app can only connect three devices simultaneously to one account in practice. Instead of that one can use free trial on mobile.
Even this application also provides a 30-day guarantee if the customer is not satisfied with the services provided.
2. Unblock Wa Through CyberGhost
Next is Romania-based WhatsApp unblocking app CyberGhost. This application is still very young but already has 3000 servers spread across 59 countries.
Not only that, CyberGhost is also loaded with several button functions that are quite complete. It is understandable that the usage fee is 188 thousand per month.
CyberGhost has strong 256-bit encryption, DNS leak prevention, and Kill-Switch. As a result, it is more than capable of connecting seven devices simultaneously.
Apart from that, the app also has a strict no-logging policy to prevent companies from collecting and exploiting user data.
This application is compatible with TOR which is very good for those who want to visit onion sites or increase security. Apart from WhatsApp, users can also unblock content on Netflix. The upload speed of this application is only 23 Mbps while the download speed is 52 Mbps.
3. Turbo VPN App
WhatsApp users whose accounts have been blocked by other people can use the Turbo VPN application to get around the block. Another benefit of using Turbo VPN is that it can bypass Facebook geo-restrictions.
It's quite easy to set up and use Turbo VPN. Follow the procedure to unblock WhatsApp below:
Download the Turbo VPN application on the HP device, then install the application:
Then open the application and activate the VPN so that later you can unblock WhatsApp. you have to hit the carrot button to succeed.
If the carrot button has been touched, a notification will appear containing questions and approval to activate the VPN
Then click OK on the notification and wait a while for the VPN to connect. It will run quickly if you have unblocked someone on WhatsApp.
4. Hotspot Shield application
Hotspot Shield is an application to bypass restrictions on WhatsApp. More than 650 million people already use Hotspot Shield to protect themselves from online threats.
This application can be used for free or purchased. The Elite Premium edition, which costs 188 thousand a month, can be used for paid applications.
Like the free version, there are bandwidth limitations. Also, the display of certain ads in the browser suggests this program saves some user data so that the ads are more relevant.
However, this will not be seen in the Elite Premium edition of Hotspot Shield. The speed difference between the two versions is one of the main differences.
Please note that this software is highly recommended for customers looking for the fastest VPN. Because Hotspot Shield performance is better when compared to UK servers but slower on Asian servers.
Interestingly, Hotspot Shield can't only be used to unblock WhatsApp. But also to unblock Netflix.
5. The NordVPN app
NordVPN is the next app that you can use to unblock WhatsApp. Apart from that, NordVPN has also been equipped with many important features to ensure security and privacy.
I was impressed by how quickly and consistently this app ran. On a 100 Mbps connection, you receive upload speeds of 48 Mbps and download speeds of 76 Mbps.
This software can connect up to 6 devices at the same time with one account. Meanwhile, NordVPN has over 4800 servers spread across 60 locations. It should be noted that this app is cheaper than Express VPN. To take advantage of it, it costs 173 thousand per month.
Users of this Panama-based app can also choose from an annual subscription. By having an annual package, of course, the package costs are much cheaper. In addition, this application also provides a money back guarantee within 30 days if the application is deemed unacceptable.
6. IPVanish App
IPVanish can also be used to unblock blocked WhatsApp accounts. The security mechanism for this application is very tight, and no logs are kept.
Another benefit provided by this app is that there are 10 simultaneous connections allowed on many high-end devices.
The IPVanish app will not record any user data. Moreover, AES-256 bit encryption is included with this app. IPVanish also allows Torrenting and unblocks many apps like Netflix and WhatsApp.
To take advantage of this application, customers must pay a fee of 145 thousand rupiah every month. Cheap spsbil compared to other VPN services IPVanish also comes with a 7 day warranty.
7. TouchVPN app
Touch VPN is an application to unblock wa. A lot of people are talking about Touch VPN now. This application is very easy to use because there is only 1 button. Blocked websites and WhatsApp accounts can be unblocked.
Users can open multiple sites without worrying about being detected. It is possible to access some blocked websites including Facebook, Netflix, YouTube and Pandora without any problem. In contrast to web proxies, Touch VPN is noticeably faster. In other words, using it is simple.
In addition, the Touch VPN software is 100 percent free to use. So that it becomes one of the most recommended programs if you want to unblock WhatsApp. Apart from that, this app has many interesting options.
Conclusion
Those are some of the wa blocking applications that we recommend, now you can choose which application is effective. Hope it is useful!