InfoKekinian.com – Canon is indeed widely used among photographers, but do you know that the Canon camera application can be accessed via Android. What are the applications? Let's see the explanation!
Canon is one of the best-selling camera brands in Indonesia. We can optimize the use of Canon cameras with additional applications on Android.
Canon is an excellent camera brand because of the high quality of their cameras, but they are also affordable. There are a number of Canon camera apps for Android that can help customers get more done with their cameras while they're at it.
Canon cameras are widely used among photographers, but do you know that the Canon camera application can be accessed via Android. What are the applications? Let's see the explanation!
There are various applications created for Canon cameras. This application includes a number of capabilities ranging from helping to take photos, transfer images, and other features.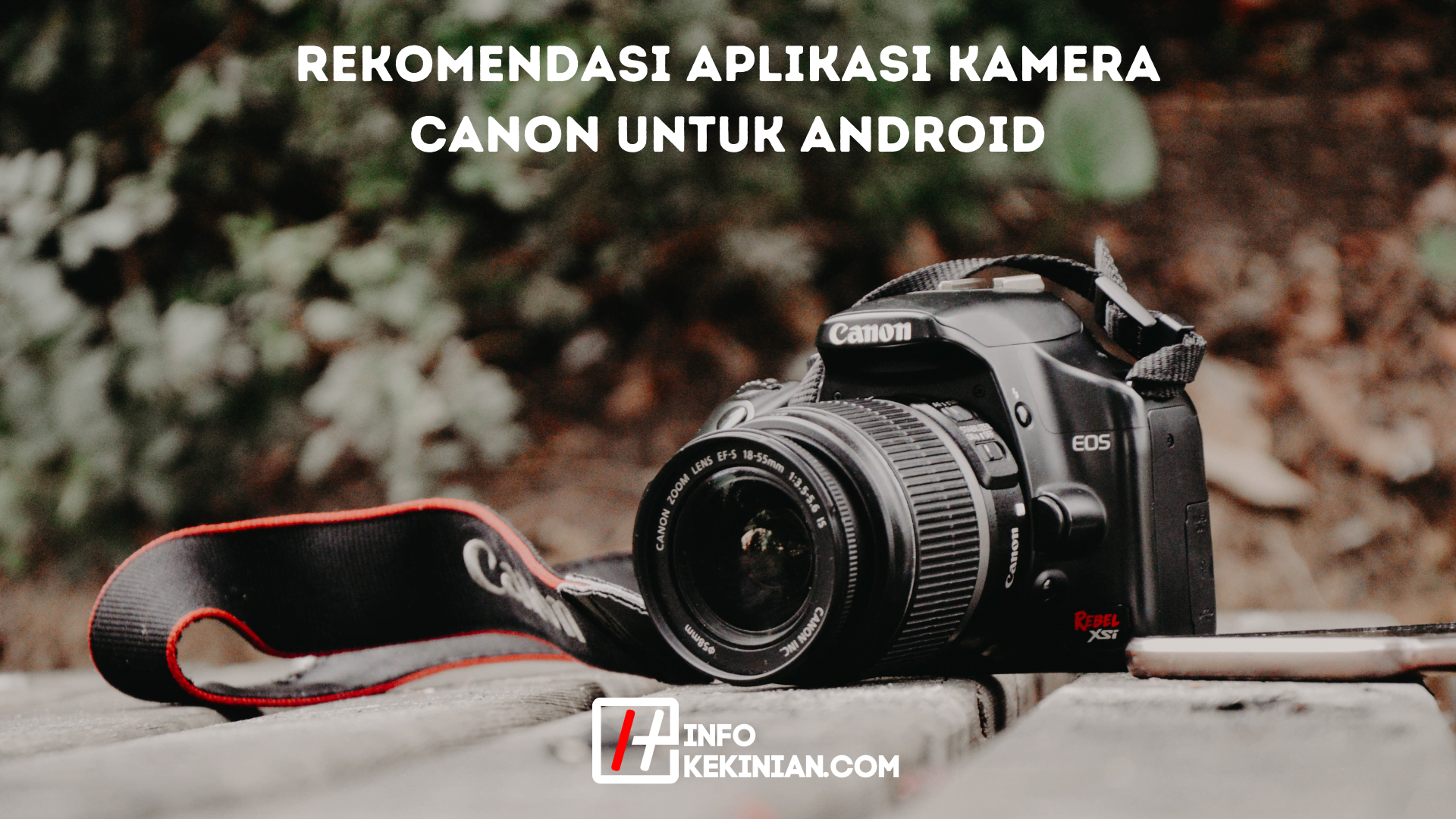 Canon Camera App for Android
Here are some recommendations for the best Canon camera applications.
1. Canon Camera Connect app
The first application is an application that is produced directly by the company Canon Inc. Using applications that have been downloaded by more than 10 million people.
We can easily transfer and store image and video data from Canon cameras to our cell phones.
There are several ways to transfer photos and videos from your camera to your phone. WiFi, Bluetooth and NFC are the main methods for establishing a connection.
What's even more dazzling, Canon Camera Connect now provides the function of taking pictures and live view directly via the HP.
We no longer have to use the camera's hardware buttons to activate this function. This function is also very useful if we want to operate the camera remotely. So to take pictures we don't need to take advantage of the timer function on the camera.
Canon Camera Connect supports several series and types of Canon cameras. The EOS M50, SX740 HS, PowerShot SX70, and other Canon cameras are good places to start; from there, you can work your way up.
2. Magic Canon ViewFinder application
Although the Magic Canon ViewFinder application is not an application developed by Canon. However, this app has quite a few admirers. Evidenced by the number of downloads that have been more than 1 million times.
We can take pictures remotely using this application. The way it works is by controlling the Canon camera using our Android smartphone. In addition, the Magic Canon ViewFinder program includes many useful capabilities.
Such as DOF settings, aspect ratio settings, auto focus, and other camera menus that we may access using this application.
Magic Canon ViewFinder supports Canon ESO-1D, EOS R, EOS 5D, EOS M6, and various other Canon camera models.
3. Canon EOS Remote App
The Canon EOS Remote camera has many useful features.
By utilizing this application we can operate the camera remotely via a WiFi connection that we link to our Android smartphone.
In addition, the EOS Remote application allows us to control the camera's exposure, focus and other settings.
Interestingly, we can also easily view and transfer image data from Canon cameras to our cell phones.
The Canon EOS 6D, EOS 70D, EOS M2, EOS M3, and other EOS camera models are all supported by the EOS Remote.
4. Canon CameraWindow application
Canon CameraWindow is a free application that allows us to transfer and shoot images from Canon cameras using Android devices.
Apart from that, this app can also add location information to photos recorded by the camera.
So that the Canon CameraWindow application can operate properly. First of all we have to connect our cellphone with the camera via a WiFi network.
If connected, we can use the app to check pictures, remote cameras and so on.
It is possible to use the Canon CameraWindow with a wide variety of Canon cameras. The PowerShot G7 X, N2, SX60 HS, G1, and G16 are just a few.
5. Camera Connect & Control application
We can monitor Canon DSLR cameras to cellphones using the Camera Connect & Control application. A USB cable or WiFi network can be used to connect this application to a smartphone.
By utilizing this application we can browse all photos, move, take remote photos, record movies, and operate the camera using a cellphone.
Besides the fact that it's free to use. A premium version of the Camera Connect & Control app is also available for those who choose to pay for it. Of course, there are additional features and no ads with the premium edition of the app.
Camera Connect & Control supports Canon 1Ds mark III, 100D, 1300D, 1D X 5D, 1200d, and many other types of cameras.
6. DSLR Controller Application
DSLR Controller is an android application that allows you to operate your DSLR camera from your smartphone, as the name suggests.
The DSLR Controller application includes many free functions ranging from live view, HDR, histogram, auto focus, and so on.
We can connect an Android that has the DSLR Controller application installed with a Canon camera via WiFi or USB. This app is compatible with several Canon EOS cameras.
7. Helicon Remote App
Another application that can help us operate Canon cameras remotely is Helicon Remote.
By utilizing the Helicon Remote application we can lock focus, modify DOF, set ISO, and so on.
Canon cameras are well served by the Helicon Remote's wide range of compatibility. Such as the Canon EOS 1D, 1Ds, 500D, 450D and 5D cameras, as well as a number of other types of cameras.
8. Application Remote Release
Unlike other Canon camera programs, this one actually works. Remote Release offers simpler functionality. Like activating auto focus and taking photos.
The Chainfire app is only compatible with Android devices running ARMv7-A or later.
Meanwhile, the Remote Release application supports almost all Canon EOS DSLR camera models. We don't have to worry about the performance of our Android. Because the Remote Release application is relatively light to execute.
9. Camera Remote Control (DSLR) Application
A remote camera app that can only be used to trigger the shutter is just what we needed. We were able to use the Camera Remote Control (DSLR) application.
However, to take advantage of this application. The Android used must already support the built-in IR blaster.
10. Canon Online Photo Album application
The last Canon camera application is Canon Olnie Photo Album. If we frequently save images to Canon Image Gateway then this is the app for us.
Because with this application we can quickly create albums, upload images, and save them directly on the Canon Image Gateway.
Conclusion
So, those are some Canon camera applications that you can use to take pictures with good results. Hope it is useful!