Infokekinian.com - Contemporary friends, this is an easy and practical way to make a NPWP online. Come on, see this article to the end.
The Directorate General of Taxes (DGT) of the Ministry of Finance made a breakthrough by presenting an electronic Taxpayer Identification Number (NPWP) service.
This breakthrough is intended to make it easier for taxpayers (WP) to fulfill their tax obligations. Especially now, NPWP is as important as having an Identity Card (KTP).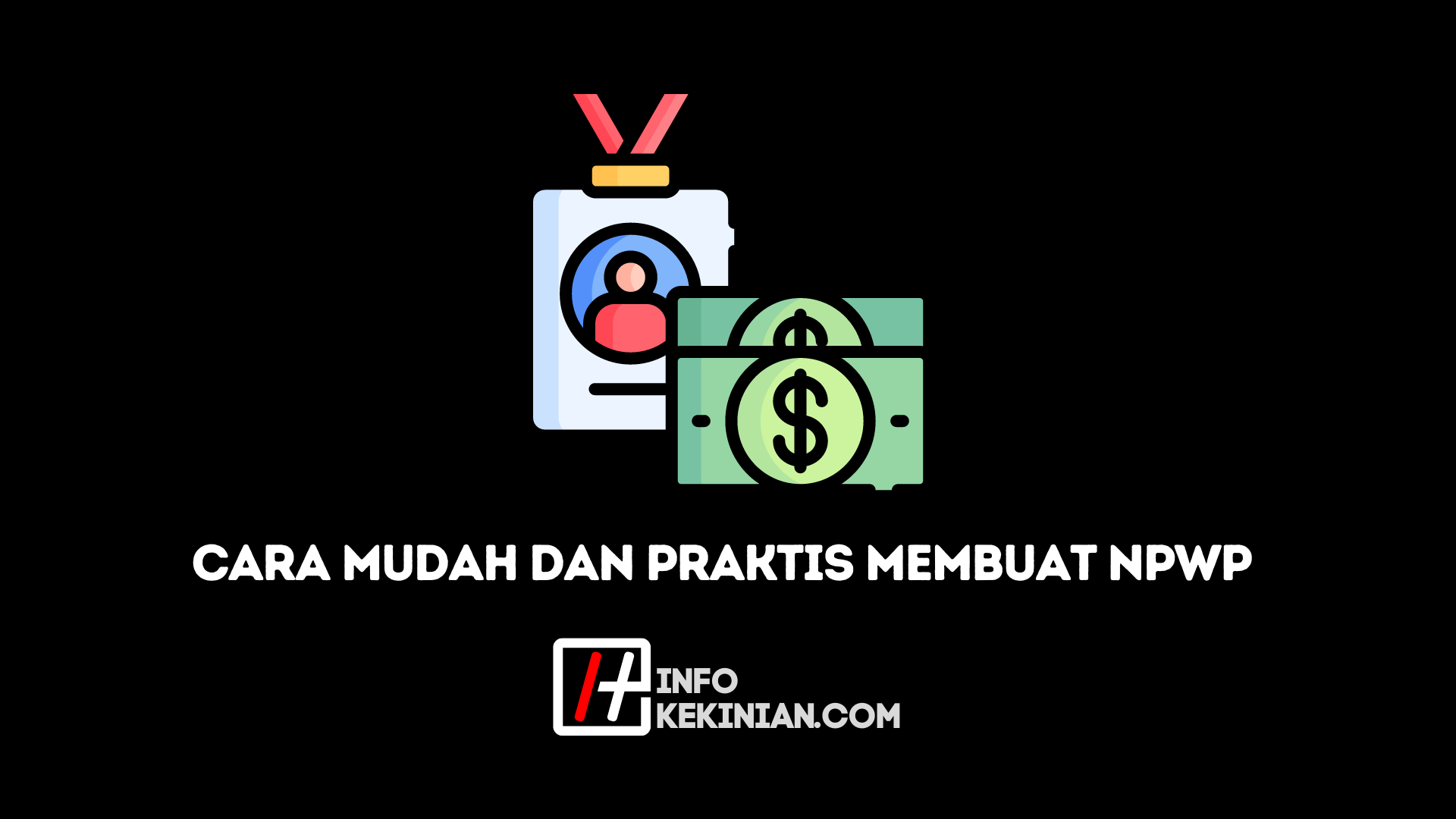 For job seekers, the NPWP, which is currently also in the form of a physical card, is one of the qualifications normally requested by companies.
Likewise in banking matters, such as opening a new account or seeking bank credit for various purposes. The bank will ask you to attach a copy of the NPWP card.
In addition to the existing physical NPWP card, the existence of this electronic NPWP is an alternative for taxpayers (WP.
This is also to prevent the physical card from being damaged or even lost. Due to the nature of the electronic NPWP only as an additional service, the physical NPWP card is still the main instrument for taxpayers in using DGT tax services.
Information technology-based improvements such as electronic NPWP are also the right step for the government to pay close attention to changes in people's behavior during the current corona virus outbreak.
Most community activities are carried out by utilizing developments in digital information technology to increase efficiency and prevent transmission of Covid-19.
There is an additional feature for sending NPWP via email owned by WP. This feature is available in the DGT online information menu.
Register for a DJP Online Account
In order to be able to enjoy this electronic NPWP service, taxpayers need to create an account at DGT Online. A WP identity number or electronic filling identification number (EFIN) is required from the DGT.
Taxpayers who wish to request EFIN for the first time must fill out an EFIN application form and go directly to the tax service office, and may not be represented.
However, in the midst of the Covid-19 pandemic, requests for EFIN can be submitted via the official email of the Tax Service Office (KPP) or the Tax Service, Counseling and Consultation Office (KP2KP).
There are a number of requirements to get an EFIN, including one taxpayer email for only one application for EFIN activation services.
Then the WP sends a selfie while holding the KTP and NPWP card. Then, the officer checks the suitability of the data provided by the taxpayer with the DGT database. Then, the officer creates and sends an EFIN notification in PDF format via email.
After getting the EFIN number from DGT, please access DGT Online via https://djponline.pajak.go.id/account/loginpajak.
Then, please click "Not Registered" which is under "Login". After that, fill in the NPWP number, EFIN number and security code. When finished, please click "Submit".
After that, you will be directed to fill in a number of fields on the "Account Registration" page.
Fill in the taxpayer's name, email, cellphone number, password, password confirmation and security code.
When finished, please click "Submit". If successful, you will see a "Success" notification on your computer screen.
After that, please check your email inbox. Later you will get an email from DJP. Select "DGT Email" and click "Activate Account".
Later, you will see a "Success" notification and click "OK". Then, try logging in to DJP Online with the NPWP number and password that was previously set.
If successful, congratulations you already have a DJP Online account. The next step after having a DJP Online account is trying the feature to get an electronic TIN.
First, the WP is required to log in to the DJP Online page and after success, the WP will be automatically redirected to the "Information" menu. Or click the "Information" menu which contains a preview of your electronic TIN.
Next, WP presses the "Send Email" button on the "Information" menu earlier. The WP email is the one listed when registering to create a DJP Online account.
After that, the DGT will send an electronic NPWP to the WP's email. DGT states that the NPWP is included in matters related to tax documents.
If the taxpayer changes residence or place of domicile, the taxpayer is asked to apply for a change of address. All of these tax services are free of charge.
Conclusion
In the end, this electronic NPWP is an alternative option that the public can use to obtain identification as a tax depositor. This electronic NPWP is an alternative option that the public can use to obtain identification as a tax depositor.
Once again, the presence of an electronic NPWP does not replace a physical NPWP. On the other hand, this electronic NPWP can be legally used, especially during a pandemic like now.
That's an easy and practical way to make a NPWP online, which you can do when you want to make one.
Now it's very practical, because you can make it using your smartphone without having to queue again.
Thus the article about Easy and Practical Ways to Make a NPWP Online and don't forget to keep visiting the Infokekinian website.
Because we also have a lot of other information and recommendations which of course will be useful and help current friends.