Infokekinian.com - Fruit salad is one of the snacks that is currently popular, it's not uncommon for people to even look for easy fruit salad recipes. Therefore we will summarize some fruit salad recipes that you can follow.
A healthy lifestyle is no longer an obligation, but a lifestyle that many people are starting to adopt. One of them is related to diet.
Many people understand the importance of eating fruits and vegetables in a balanced diet. One of the popular snacks is fruit salad.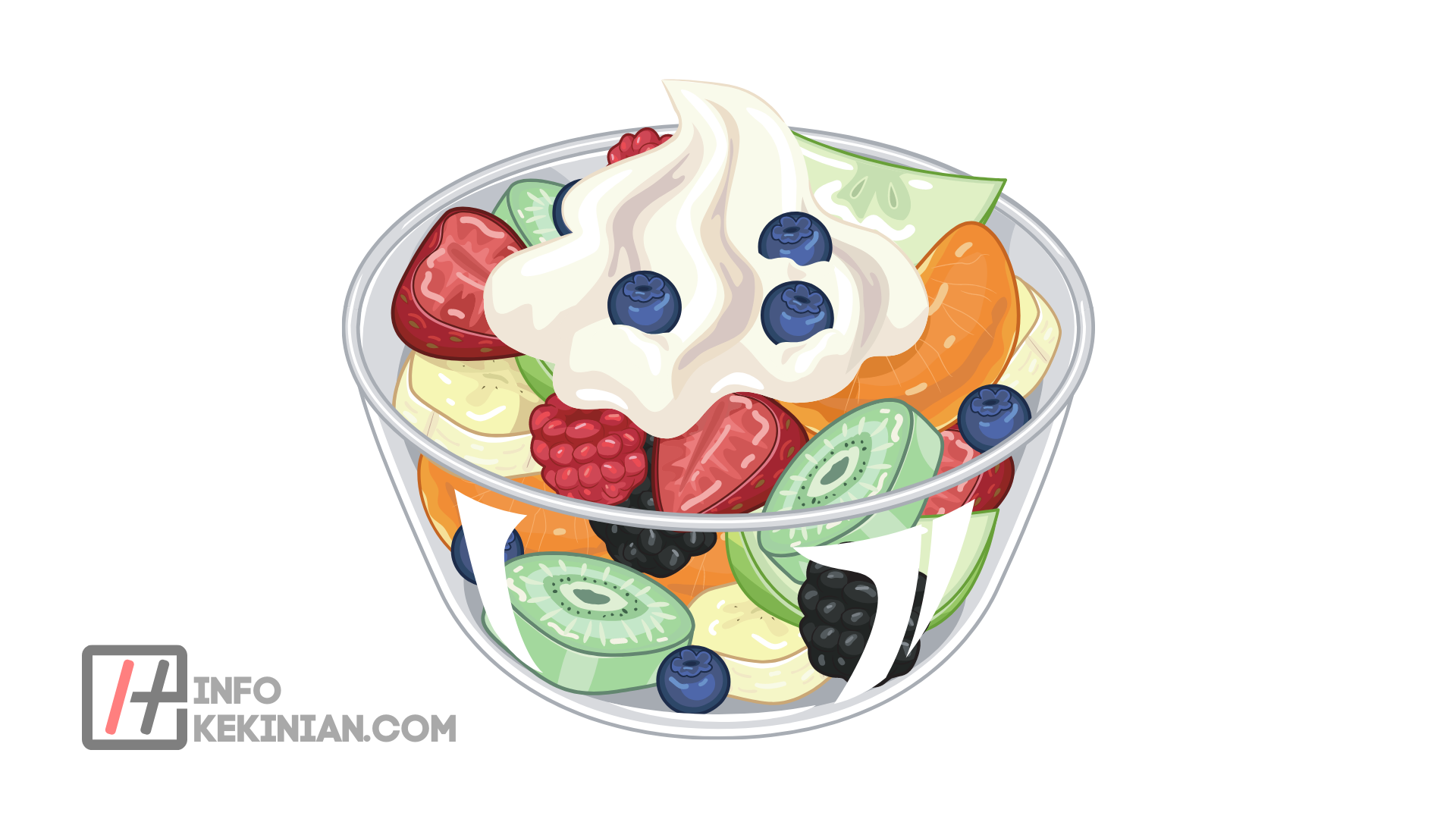 Not only delicious, but also rich in vitamins. Fruit salad recipes are circulating on social media timelines.
This shows that the consumption of salads is currently popular. To achieve a better balance of taste and nutrition, you have to make it yourself.
This sweet and fresh dessert is easy to make at home. The ingredients are easy to find in the fridge.
So, how do you make it and what materials are used? Come on, see the details below!
1. Simple Fruit Salad Recipe
Don't worry if you only have a few fruits on hand. Because basically making a fruit salad doesn't have to use a lot of fruit.
You can already make a refreshing salad with just a few types. Here's the full recipe!
Material:
Fresh fruit, wash and cut according to taste
Jelly (diced)
1 teaspoon freshly grated lemon peel
1 teaspoon of lemon juice
Cheddar cheese, 50 gr (grated)
1 sachet of sweetened condensed milk (white)
3 tbsp mayonnaise
How to make:
Refrigerate fruit for at least two hours.
To make the sauce, mix grated lemon zest, lemon juice, sweetened condensed milk, mayonnaise and cheddar cheese. Mix well and put in the refrigerator for 2 hours
Drizzle the sauce over the fruit and jelly in a serving bowl. Then serve while still cold.
2. Fresh Fruit Salad Recipe
The freshness of fruit salad is undeniable. The combination of water-rich fruits and tempting sauces is sure to make you salivate.
It's very simple to make. Of course, mixing the fruit in the recipe below will make it even juicier. Here's the full recipe!
Material:
1 plain nutrijel (cook and add food coloring to taste)
2 kiwis
kilos of grapes
1 kilogram of watermelon
kilos of melons
1 pear
1 mango
Sauce Ingredients:
2c. yogurt
1 teaspoon honey
100 ml SKM
Mayonnaise (100 grams)
Toppings:
Cheddar Cheese (grated)
How to make:
First, prepare all the ingredients, including fruits, toppings and sauces.
After that, peel and cut the fruit according to the desired size.
If you have one, store it in a container in the refrigerator.
Leave for two hours, or until the fruit is cold.
Mix the remaining sauce ingredients.
Add grated cheese stir until smooth.
Fresh fruit salad ready to eat.
3. Healthy Fruit Salad Recipe
Fruit salad is healthy because the main ingredients are fruits. Fruit salad, on the other hand, is not recommended for diabetics.
This is due to the high content of mayonnaise and sweetened condensed milk. Consuming high-calorie foods is good for the body even in healthy people.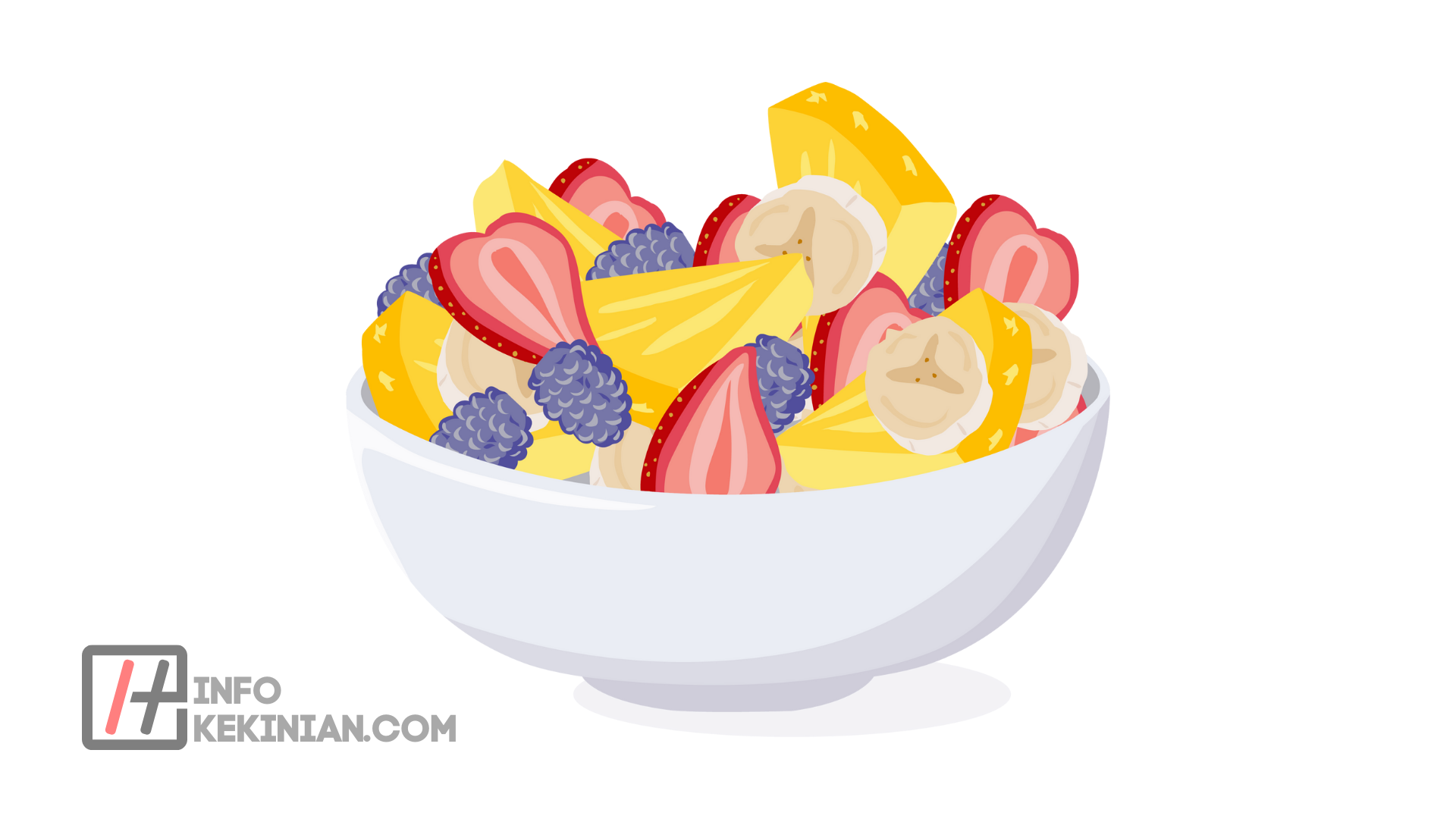 You can try the recipe below to enjoy fruit salad in a healthier way.
Ingredients:
Fruits (to taste)
Extra virgin olive oil
watercress
almond nut
Yogurt with low fat
red tomatoes
Wheat
The amount of each ingredient is not determined because you can adjust it to your taste.
Ingredients:
To start, cut the fruit into cubes. Put it in a bowl after that.
If so, add watercress and red tomatoes.
Pour in a sufficient amount of olive oil and low-fat yogurt.
Refrigerate after stirring until smooth.
Let sit for 30 minutes before removing from the fridge.
For extra flavor, sprinkle with almonds and oats.
4. Mayo Fruit Salad Recipe
To enjoy the pleasure of fruit salad, there are several ingredients that must be added. Cheese and mayonnaise are included.
Today, we'll show you how to make a mayo fruit salad with fresh fruits that will make you addicted.
Ingredients:
Fresh fruit such as grapes, apples, melons, watermelons, dragon fruit and so on (diced)
Sweetened condensed milk
mayonnaise
Cheese
unflavored yogurt
How to make:
Make small pieces of fruit.
If so, put the fruit in a medium-sized bowl and put it in the fridge to give it a cold sensation when eating it.
Make mayonnaise sauce by combining it with 250 grams of yogurt and sweetened condensed milk.
Stir the three ingredients until well blended.
Leave the fruit for 30 minutes before removing it from the refrigerator.
Mix the mayonnaise sauce and sprinkle with grated cheese.
Mayonnaise fruit salad is ready to be served cold.
5. Chocolate Cheese Fruit Salad Recipe
There are separate tips for making fruit salad, especially fresh fruit and the right combination of mayonnaise sauce. To make the salad have a crunchy taste, use fresh fruit.
Also, use less overpowering sauce ingredients that will overpower the natural flavors of the fruit.
Mayonnaise sauce can also be made with other ingredients such as chocolate and cheese. Want to know how to make it? Come on, look down!
Ingredients:
Fresh fruits such as grapes, apples, melons, watermelons, dragon fruit, salad, papaya, and so on (adjust to taste)
yogurt (250 gr) (recommended to use the Chimory brand strawberry variant)
Mayonnaise (180 grams)
As needed, SKM (using the Frisian flag brand)
Toppings:
Chocolate bars to taste.
To taste, cheese (grated)
How to make:
The first thing you have to do is make the mayonnaise sauce.
The way to prepare a bowl, add mayonnaise, then mix well in SKM. Pour in the yogurt and stir until combined. To make the gravy more delicious, make sure the texture is not too runny.
Taste test to make sure the taste is right. If it's still not right, add the ingredients. You can add sweetened condensed milk if it's too sour.
When finished, set the sauce aside. You can prepare various kinds of fruits.
Wash the fruit thoroughly before peeling and cutting into cubes. Place in a closed container.
In a fruit bowl, combine half of the sauce. Stir with a spoon until well blended.
Finish the fruit salad with cheese topping. To add flavor, sprinkle with grated chocolate bars.
Garnish with red wine and lemon to make it look prettier.
If so, close the container and put it in the refrigerator so that it is more delicious when consumed.
6. Cheap fruit salad recipes that can be sold
Fruit salad is currently very popular among the general public because of its very refreshing taste. As a result, many sellers are competing to provide delicious fruit salad.
One of the factors that need to be considered in making fruit salad for sale is the selection of fruit that is not too expensive and easily accessible to the general public.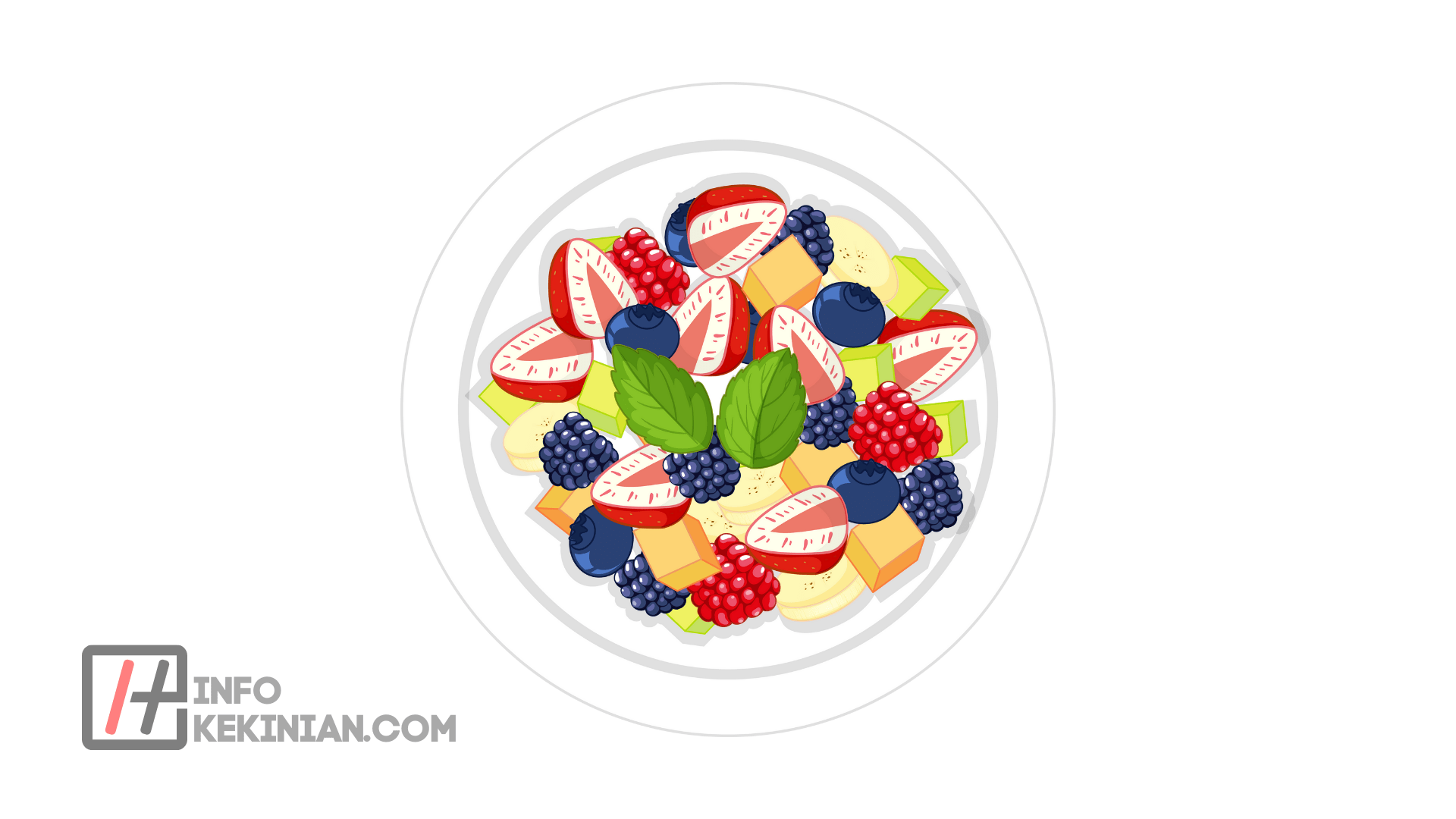 To help you, here is a cheap fruit salad recipe that is suitable for sale. Here's the full recipe:
Ingredients:
Grapes (200 grams)
One dragon
one pineapple
Longan 200 gr (peel and remove seeds)
watermelon
melon
Sauce Ingredients:
160 g unsweetened yogurt
200 gr of grated cheese
Mayonnaise (160 grams)
160 gr sweetened condensed milk (approximately 4 sachets)
How to make:
Prepare all the necessary ingredients. Then, collect the fruits to be used. Wash clean, then peel and cut into pieces according to taste.
In a large bowl, combine the fruit. Divide the mixture into small cups. Place on the side.
To make the sauce, beat the yogurt, mayonnaise and sweetened condensed milk until well blended.
After that, you can start pouring the sauce over the fruit.
Grate the cheese to serve as a garnish.
The salad should then be refrigerated. When it's cold, serve.
7. Thai-style Mango Fruit Salad Recipe
Each country has its own style of fruit salad. As in Indonesia, the fruit salad is mixed with a dressing made from peanuts and palm sugar to give it a sweet and authentic taste.
Another country that shares mango salad with Thailand. How do you make it? Check out the review below:
Ingredients:
1 ripe mango
Coriander seeds (to taste)
handful of nuts
2 tbsp soy sauce
1 teaspoon sea salt
2 tbsp. Palm sugar
2 tablespoons of chili powder
5 cayenne pepper
1 bamer
How to make:
Gather all the ingredients.
then peel and cut the young mango and set aside
Shallots and bird's eye chilies, thinly sliced
When finished, add fish sauce, salt, chili powder, and palm sugar.
Add chopped young mango, sliced bird's eye chilies, and also shallots. Stir well, then taste.
Place all combined ingredients in the refrigerator to absorb and chill.
When serving, sprinkle with cilantro and peanuts on top.
8. Apple Cheese Fruit Salad Recipe
Fruit salad can actually be adjusted to taste. But this time, the main ingredient in the fruit salad recipe is green apples. It will definitely make its taste with various additional ingredients.
Ingredients:
1 apple, green
100 grams of macaroni
100 ml UHT pure milk
200 grams of cheddar cheese
5 tablespoons of mayonnaise
2 chicken nuggets
Carrots (100 gr)
100 gr corn (peeled)
1 tomato, red
Broccoli 100 grams
lettuce 100 grams
How to make:
Boil corn, broccoli and carrots until tender. Boil macaroni until tender.
Take vegetables and cut them according to the size you want.
The topping is fried chicken nuggets.
Boil cheddar cheese and UHT milk until boiling and stir until completely dissolved. To make it thicker, add cornstarch.
Plate with macaroni, vegetables and chicken nuggets. Then, when it's time to eat, drizzle the cheese sauce over the top. To add flavor, add mayonnaise.
9. Purple Sweet Potato Salad
The sauce used to make the salad can be adjusted according to taste. However, if you want something a little different because it's so ordinary, try the purple sweet potato salad. you can find out how to do it below: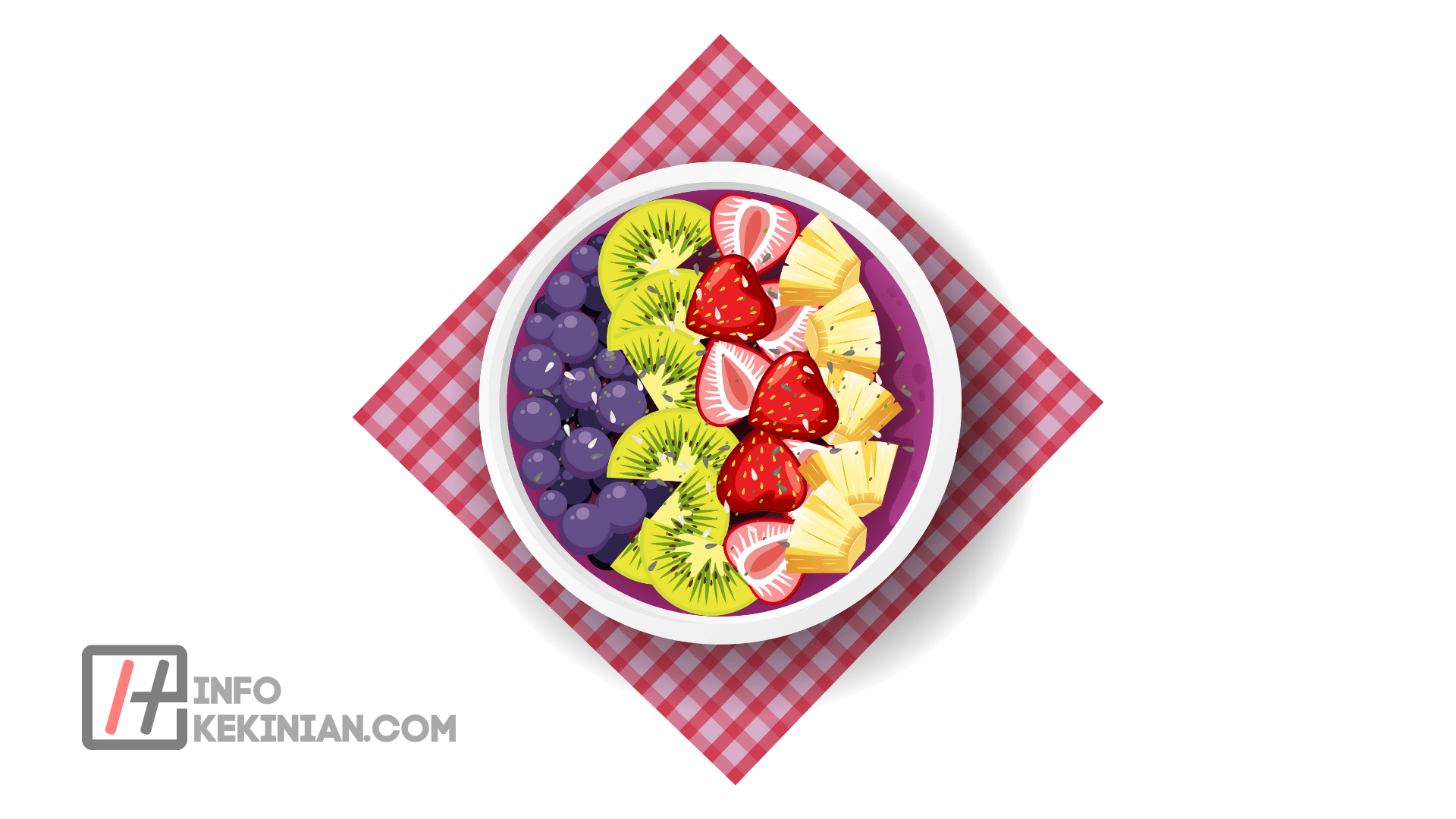 Ingredients:
Melon, pineapple, papaya, watermelon, purple sweet potato, lettuce, honey sweet potato and cherry tomatoes are examples of fruits.
1 teaspoon. lemon juice
2 tbsp sweetened condensed milk,
4 tbsp mayonnaise
1 tbsp purple sweet potato, steamed (mashed)
How to make:
Dice the purple sweet potato, various fruits, and coarse lettuce leaves.
Refrigerate after mixing in a bowl.
Make mayonnaise, mashed purple sweet potato, lemon juice, and sweetened condensed milk until well blended.
Remove the mixture from the refrigerator and stir in the sauce. Serve while still cold.
10. Super Creamy Fruit Salad Recipe
The dressing is one of the mainstays of the salad. Of course, the creamy dressing will make the salad even tastier and juicier.
So, are you interested in learning how to make a creamy salad dressing? Come on, see what's below:
Ingredients:
Fruit to taste (chopped)
200 ml of liquid milk
6 tbsp mayonnaise
50 gr of grated cheese
three tablespoons of sugar
1 teaspoon cornstarch
How to make:
Place the fruit in the fridge to keep it cool and fresh.
Meanwhile, start making the sauce by heating the milk and sugar over low heat. Stir well.
While continuing to stir, add the cheese.
Add the cornstarch mixed with water to a boil.
Remove from heat and stir in mayonnaise.
Let the sauce cool before combining it with the fruit.
As a garnish, sprinkle with grated cheese.
So there you have it some delicious fruit salad recipes. However, you don't have to proceed with caution.
Because every technique used to make fruit salad is very influential on the taste and sensation.
As a result, if you process it incorrectly, it may not be crispy or fresh. Please refer to the tips for making the following fruit salad to make it more delicious. Here's the review:
Buy seasonal fruit. This is because fruit bought in season has the best taste and texture.
Buy fruit that is the same level of ripeness. It would be very uncomfortable to eat a fruit salad that is too soft or too hard. Choose fruit with the same ripeness level so they can be enjoyed together.
Combine fruits of different textures and colors. At the same time, use a combination of juicy, crunchy and fibrous skin.
For easy, unobtrusive eating, remove all pits, stems, and skin. Also, removing all the unnecessary parts can give the impression that your fruit salad is clean.
Cut the fruit evenly to make the salad look attractive. This also makes it easier for consumers to consume it.
Make sure the fruit is evenly distributed so that no one feels that they are getting an extra portion.
To keep fruit salad fresh, garnish it with orange or lemon juice.
Otherwise, use herbal leaves as a garnish, such as mint leaves. Because mint leaves help keep fruit salads fresh.
Putting sugar on unripe fruit. This will give the fruit the desired texture and taste.
You can also enhance the taste by adding whipped cream or yogurt.
Conclusion
That's a little information about various easy fruit salad recipes, which of course you can try to make and you can make ideas for doing business.
Thus the article about Easy Fruit Salad Recipes and don't forget to keep visiting the Infokekinian website.
Because we also have a lot of other information and recommendations which of course will be useful and help current friends.