InfoKekinian.com – After getting to know narrative essays, now is the time for you to know some examples of short narrative essays that you can use as a reference for doing your assignments.
As previously explained, if this narrative essay is a type of essay that is usually made in school assignments and can also be used in writing short stories.
In the process of making it, we may experience difficulties in making it.
Because usually we will need an inspiration first and a broad vocabulary in order to produce good writing.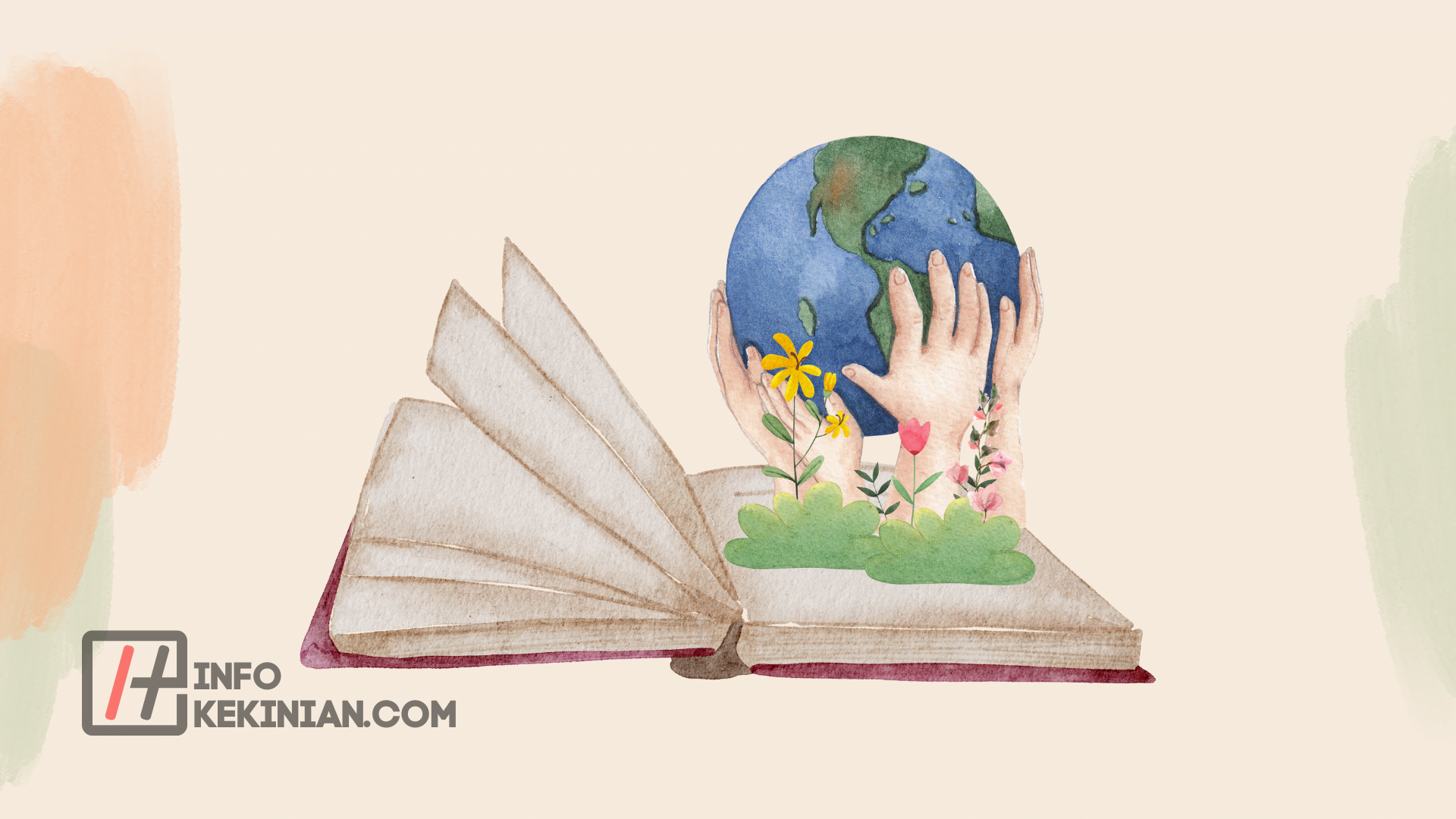 Well, in the article to be InfoKekinian.com For below, we will provide some examples of story essays narrative interesting short.
Example of narrative story essay
Here are some examples of narrative story essays:
1. Example of narrative essay about education
Father of National Education

The world of education is always grateful for the services of Ki Hajar Dewantara, a pioneer figure in education during the Dutch colonial period.

He fought to ensure that indigenous people had the same educational rights as priyayi and Dutch people.

It was his struggle that caused him to be recognized as the Father of National Education and the day of his birth is celebrated as National Education Day.

Ki Hajar Dewantara was born on May 2, 1889 in Yogyakarta, with the real name Raden Mas Soewardi Soeryaningrat.

In his youth, he was active in socio-political organizations and always tried to raise public awareness about the importance of unity in society and the country through outreach.

Ki Hajar Dewantara began to be active in the field of education when he was exiled in the Netherlands.

During that period of exile, he studied education and earned the title Europeesche Deed.

This title came in handy when he returned to Indonesia in 1919 and started working as a teacher.

The big step taken by Ki Hajar Dewantara was when he founded the Taman Siswa National College school on July 3, 1992.

Even though he faced many obstacles and obstacles from the Dutch government, he still fought for education and created a motto that is well known to this day.

"Tut Wuri Handayani" (providing encouragement from behind), "Ing Madya Mangun Karsa" (creating opportunities to initiate in the middle), and "Ing Ngarsa Sungtulada" (providing an example in front).

This motto was then used as the slogan by the Ministry of National Education.
2. Examples of narrative essays about the environment

One of the important criteria in environmental health is the issue of clean water, waste management and sanitation.
These needs include access to clean water, management of waste issued by the community, and disposal of waste water that is directly discharged into canals/rivers.
This causes the canal/river to be polluted and clogged with garbage.
During the rainy season, floods often occur and cause various types of diseases. The problem of clean water is very important for our survival.
This is because every day we need clean water for drinking, cooking, bathing, washing, and other purposes.
With clean water, we can avoid various types of diseases.
Currently, the problem of clean water is a rare thing in our country, especially in big cities like Jakarta, where clean water is an expensive item and is often sold.
This is different from a few decades ago, where clean water was easy to obtain and was always available in sufficient quantity in every corner of our country's land, because at that time water and air pollution was not as much as it is now.
The taste and color of water today is also different from what it used to be due to pollution. Environmental pollution is mostly caused by human actions.
Water and soil pollution occurs in waters such as rivers, rivers, lakes, seas and groundwater sources. Meanwhile, soil pollution occurs on land, both in cities and in villages.
However, nature has the ability to restore polluted water conditions through natural purification or purification processes through the purification of soil, sand, rocks, and microorganisms in the environment around us.
The massive amount of pollution by humans has exceeded nature's ability to restore conditions to normal.
This causes nature to lose its ability to clean up the pollution that occurs.
Garbage and substances such as plastic, DDT, detergents, and so on that are not environmentally friendly will further exacerbate the damage to nature, which is getting worse every day.
Some of the factors that cause environmental pollution in water and soil include:
Erosion occurs and high rainfall
The amount of waste that is disposed of by humans from homes or residential areas
The spread of chemical substances from various sources such as residential areas, agriculture, industry, and others.
Garbage and wastewater contain various types of components such as dissolved gases, dissolved solids, oil and grease, as well as microorganisms.
Microorganisms present in waste and wastewater can include decomposer organisms and cause disease.
Improper handling of waste and wastewater, such as: draining wastewater into open channels or canals that are damaged due to lack of maintenance.
Blockage of the drains due to garbage and sewage disposal will accelerate the growth of disease-causing microorganisms or germs, insects and disease-spreading mammals such as flies and rats.
Some of the diseases caused by poor sanitation and waste disposal and waste water include diarrhea, dysentery, dengue fever, hepatitis A, typhus, cholera, intestinal worms, malaria.
To prevent water and soil contamination and avoid various diseases, we must live a clean and healthy lifestyle.
Clean and healthy living can be interpreted as living in an environment that meets hygiene and health standards in carrying out healthy and clean living patterns or behaviors.
This is because living in a healthy environment will have a positive impact on health, so that one's health will be maintained if the surrounding environment is also healthy.
Vice versa, if the surrounding environment is not good, one's health will be disturbed.
In implementing a clean and healthy life, the first thing that must be applied is to create a healthy environment.
A healthy environment is characterized by a healthy home and a healthy surrounding environment.
3. Examples of narrative essays about teachers
Second Parent (Teacher)

Everyone must have parents who welcomed them into this world, but at school we are also met with second parents, namely the teachers who taught us while we were at school.

Those who guide, look after, and provide input for us while we study at school.

When we are at school, we will meet various types of teachers who have different materials and different personalities.

The teacher's personality is important because we must have met a kind and patient teacher, a strict teacher, a teacher who students fear because they are often angry, a funny teacher who often makes us laugh, and many more.

There is also a beautiful and handsome and young teacher who the students pay attention to.

However, we must still respect all teachers without exception and focus on the learning process being carried out.

Teachers are an important key in our educational journey. They are unsung heroes who are always present in our ups and downs while studying at school.

Teachers are always there to provide guidance, protection, and admonition. They have a variety of personalities, ranging from kind and patient, to strict, or funny.

However, above all, teachers are people who will be proud if we achieve and feel sad if we experience failure.

They will also raise us up from these failures. All our respect goes to the teachers who have struggled to advance our education.
4. Examples of narrative essays about school
An Impressive Experience

On Monday morning, I was surprised to realize that the clock in my room showed 06.30 WIB.

I quickly got up and headed for the bathroom. However, while in the bathroom, I slipped and nearly hurt myself.

After taking a shower, I dress for school, have breakfast, and go to school by motorbike.

However, when I got to school, I was surprised that my hat wasn't in my bag. Because I had to attend the flag ceremony that day, I had to go home to get my hat.

After taking the hat, I returned to school by riding a motorcycle. After leaving home, I found that my motorbike ran out of gas.

I had to find a gas retailer not far from the road.

Luckily, I immediately found the place and bought a liter of petrol to continue my journey to school.

Upon arriving at school, I was surprised to see that the students had gathered in the field for the morning ceremony.

Because it was late, I immediately ran towards the ceremonial field.

When the ceremony started, the principal gave a briefing on the school rules that all students had to apply.

Suddenly a teacher came over to the students to check the tidiness, and unfortunately my hair was judged to be too long by the teacher.

Without a chance to refuse, the teacher freely tore my hair.

After the ceremony was over, I went into the classroom to follow the lesson.

However, unfortunately, the teacher gave me homework to do and I forgot to do it.

As a result, I was given a punishment by the teacher to do the homework three times.

And, with my unkempt hair, I feel embarrassed in front of my classmates.

I tried to complete the assignments given by the teacher as best I could, but friends playing in class disturbed my concentration.

Finally, I asked my friends to be quiet and focus on their respective tasks in order to complete the task well.

However, even though I tried my best, it was difficult for me to complete assignments quickly due to the non-conducive atmosphere of the class.

I gave a warning to my friends not to be noisy in class, but they were not happy and did not accept the warning.

My friend tore up the assignment I was working on, which made me feel irritated and I quickly made the bad move by beating him up, causing a fight to break out.

The homeroom teacher then called us to the office to solve the problem and we were required to apologize.

After that, we were given orders to ignore the matter and carry on with our normal activities.

The bell rang, indicating it was time to go home from school. We immediately returned home and I was relieved that the problem was solved.

After that, I told my parents when I got home.

My parents also reminded me not to be easily provoked by emotions in solving problems and to always try to find a peaceful way to overcome the problems at hand.

I also understand and try to apply my parents' advice in my daily life.
6. Examples of narrative essays about facts

Ir. Sukarno

Ir. Soekarno, who served as the first President of the Republic of Indonesia, was a nationalist who led the PNI in 1928.

He was willing to spend his time in prison and in exile because of his determination to oppose the invaders.

On June 1, 1945, in the BPUPKI meeting, Soekarno delivered a speech explaining the foundations of an independent state known as Pancasila.

Together with Mohammad Hatta as the representative of the nation, Soekarno proclaimed Indonesian independence on August 17, 1945.

Then in 1948, he was arrested and exiled by the Dutch in the Bengkulu region.

And in 1949, after his position as President of the Republic of Indonesia was recovered, Ir. Sukarno was returned to Yogyakarta.

Soekarno was also a spokesperson for non-aligned countries at the Asian-African Conference which was held in Bandung in 1955 along with leaders of other countries.

With a spirit of leadership and struggle that he has never faded so he spent his whole life to serve and fight.
Conclusion
Those are some examples of narrative story essays that can be your reference in doing assignments in making narrative story essays.
And from the several examples of stories above, we can conclude that this narrative essay is an essay or text that tells an event based on time sequence or what is commonly referred to as chronology.