InfoKekinian.com – April 2022, Netflix will start broadcasting the Korean drama Our Blues. Many famous actors will star in this drama. Set on the island of Jeju, Our Blues depicts the intertwined lives of many characters.
Some of them will later be told to work at the Seopseop market, Pureung. Our Blues presents stories of love, family, neighbors to friendship that are unique and close to people's lives.
This omnibus concept drama will consist of 20 episodes, with each episode having a different main character from the previous episode.
Several famous stars, such as Lee Byung-hun to Shin Min-a to Kim Woo-bin to Cha Seung-won to Lee Jung-eun to Shim Dal-gi to Uhm Jung-hwa and Han Ji-min, will attend Our Blues. Our Blues will air every Saturday and Sunday night on tvN and Netflix
And the most interesting thing about this drama is Shin Min Ah and Lee Byung Hun's first reunion. In addition, Our Blues is a drama starring actor Kim Woo Bin - the actor who made a comeback for the first time after being declared cured of nasopharyngeal cancer in 2017.
In the real world, Shin Min Ah and Kim Woo Bin are lovers who have a romantic relationship, but in this drama, they are not meant to be lovers.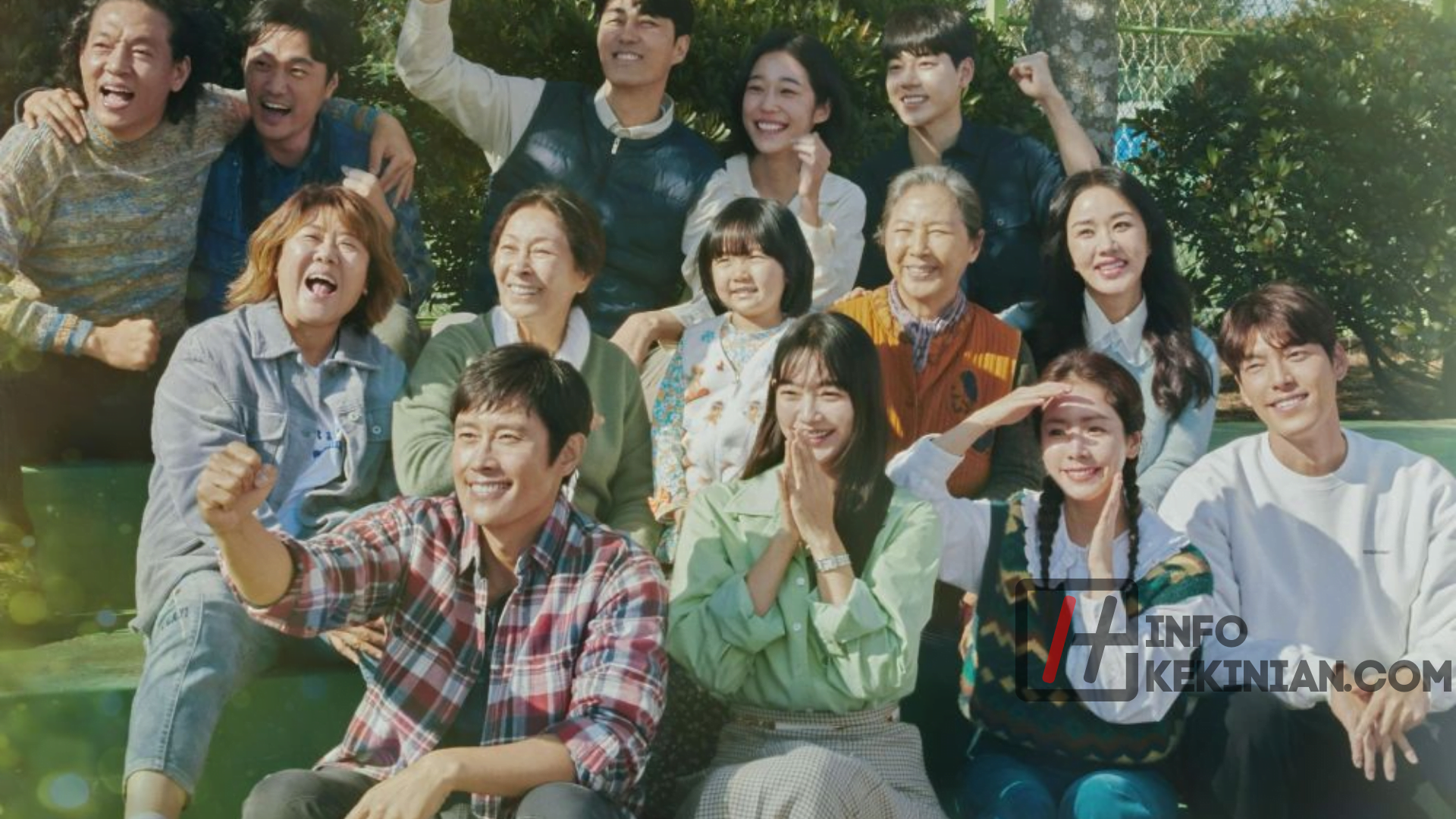 Korean Drama Facts Our Blues
In the following, we will provide some reviews regarding the facts of the drama Our Blues, which will star Kim Woobin
1. The Cast – Facts about Korean Drama Our Blues
Here Lee Byung Hun plays Dong Seok. Min Seon A is played by Shin Min Ah, and Han Su is played by Cha Seung Won.
Yeong Ok (Han Ji Min) to Kim Woobin besides Jng Eun Hui, Mi Ran (Uhm Jung Hwa), and Yeong Ok (Lee Jung Eun) (Park Jeong Jun)
2. Lee Byung Hun's Comeback Drama
Yes, Our Blues became Lee Byung Hun's acting comeback in the drama after Mr Sunshine which aired in 2018. His decision to join Our Blues is not without reason.
"I always wanted to work with writer Noh on a drama. I think it will be a good opportunity to bring together some of the best actors in the business." At a recent press conference, Lee Byung Hun had this to say.
3. Meeting Shin Min Ah and Lee Byung Hun After a Long Time
After Beautiful Days (2001) and A Bittersweet Life (2001), this is the third time Shin Min Ah and Lee Byung Hyun have worked together in a drama (2005). At this time, they were a couple.
"In my first work, he was my male counterpart because he appeared in most of my scenes. And in A Bittersweet Life, our characters don't just have any sort of relationship; they have an amazing relationship" said Shin Min Ah.
Due to the revolving door of our previous roles, this time at Our Blues I felt like I had met three different individuals. However, I felt more comfortable around him, which I believe contributed to the chemistry that developed between Dong Seok and Seon A.
4. Shin Min Ah Becomes a Mother
In Our Blues, Shin Min Ah takes on the role of first-time mother for the first time. Instead of having difficulties being a mother, she has difficulty channeling her emotions as Min Seon A.
Min Seon A is a character who is still struggling with her pain. This is my first role as the mother of a child. The fact that Seon A is a mother put more pressure on me to accurately describe her emotions, mood swings, and methods of dealing with pain." Shin Min Ah said this. –
I feel the pain. For some reason, I thought it would be interesting if I tried to capture the pain and her determination to overcome it. This is something I'd like to try. The strongest reason for me to audition for this role was because of Seon's character. a's I can identify with her emotions and personality."
5. Drama Prime Shin Min Ah and Kim Woobin
In the real world, Shin Min Ah and Kim Woo Bin are lovers. but in this drama it is not like that. The first time they were depicted on screen was in Our Blues. The writer has good reason not to put these two together as a real couple.
"I'm sure they wouldn't be involved in this if they appeared together. It was clear to them that they would not appear as a couple, but instead each of them would develop a romantic relationship with someone else," said the reporter, her name is Noh Hee Gyung.
"Of course, their talent as actors forced me to provide my voice for them. I don't really think about anything else. They have a calm and collected demeanor."
6. Kim Woo Bin Becomes a Ship Captain
As the captain of the ship, Kim Woo Bin admits to having a little anxiety about taking on the role of Jeon Jun. Even for the sake of developing the role, he was required to arrive in Jeju early to familiarize himself with the captain of the ship. character.
"I wanted to understand the environment he lived in here, so I went to Jeju earlier than I needed to and met and talked to some of the ship's captains," he explained.
He himself is actually quite difficult to be Jeon Jun who spends a number of scenes on the ship. Kim Woo Bin suffers from seasickness, which is the reason for his absence from the party.
7. Filming Difficulties – Facts about Korean Drama Our Blues
Kim Gyu Tae as the director of Our Blues said filming in Jeju was quite tiring. They have a challenging time there.
Kim Gyu Tae said, "It's actually hard work. We did have fun, of course, but the process wasn't easy. Jeju is known to be very windy, and the weather is very volatile. Also cold with strong winds," said Kim Kyu Tae.
"So their hair isn't perfect, they don't look perfect on the show so they might be holding a grudge against me."
Conclusion
Those are reviews of some facts about the Korean drama Our Blues which will air in April 2022. For fans of Kim Woobin and Shin Min Ah, you can directly stream the drama Our Blues on Tvn or Netflix which airs every Saturday and Sunday night. Hope it is useful!