Infokekinian.com - Contemporary friends, this is how to check the list of fraudulent OJK investments. In order not to be fooled, read this article to see the list.
The OJK's list of fake investments for 2021 has been released by the Securities and Investment Warning Initiative (SWI).
Tobing advised the public to be wary of promises that promise quick money but are actually detrimental.
Previously, SWI had urged Snack Video and TikTok Cash to stop their operations in Indonesia.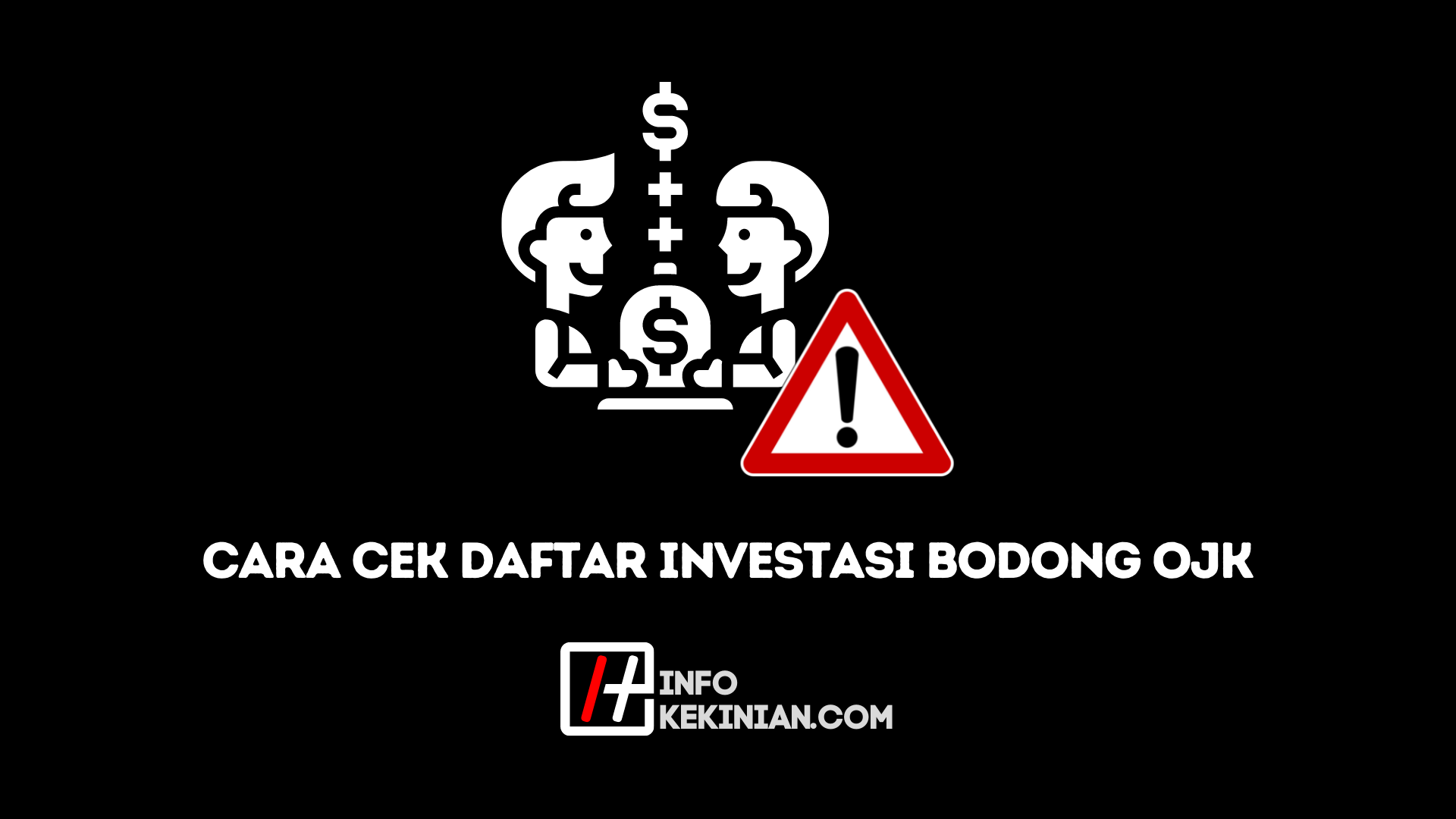 Video Snack has not been registered as an Electronic System Operator (PSE) of the Ministry of Communication and Informatics and does not yet have a license in Indonesia.
"We have discussed with the Snack Video application and agreed to stop its activities until permission is obtained.
We also ask the Ministry of Communication and Informatics to stop TikTok Cash, which has the potential to harm the community," said Tongam.
OJK's fake investment list
The following is a list released by OJK:
1. List of Fintech Peer To Peer (P2P) Illegal Lending
Here is the list:
Go Money
Go Duit-Emergency fund loans
Go Money
Quick Funds
Smart Money
CashGo-Fast Liquid Online Loans
Need Fast Liquid Capital-Loans Online
Need Capital-Credit Rupiah Funds Fast Loans Online
Speed Fund
Credit Pocket Funds-Online
KSP Pocket Fund
BorrowSaja-KSP Online Fund Loans
Hello Money
fun fund with xinshangjia developer
fun funds with fun122 fund developers
Fun funds with fun fund developers
Rafra Apps Store
Smart Fund
My loan with developer Natalia Blum
The fastest and safest Online Loans-My Loans
My loan with developer Kyle Haines
Flash Funds-Safe, Fast and Easy Online Loans
Quick Funds-Everything just got easier
Flash Money with developer Agatha Shumard
Flash Money with developers in memory
Flash Money with the developer PT.graha tirta Cantika
Flash Money with WA EYE developer
Flash Money with developer Super Keatley
Fund Rate
Cash Again Lite-Cheap Interest Online Loans
KSP Kelapa Wallet-Cash Loan Cash Credit Fund
Windfall
Fresh Loans
Need Money - Borrow Easy Cash
Redholo-Rupee originates from here
Super Fortune
Fast Capital Online Loans Liquid Fast and Easy
Fast Capital KSP
KSP Banana Wallet
Rupiah Credit-Cash Online Money Loans
Rupiah Credit-Cash Fund Loans
IDR Fast Wallet
Rpwallet: Wallet management
Rp-Q-Wallet
KSP Dompet Mangga-Quick loan tool
iDana-Cash
iDana-Cash Cash Borrow Rupiah
iDana-Loan
iDana-MoneyQu
Rupiah Lightning-Cash Loan Credit Fund Cash
2. List of Illegal Entities
Here is the list:
PT Sharing Bintang Teknologi (Stasashi) with equity crowdfunding business activities without a permit
PT Prioritas Inti Sejahtera (Smart In Pays) with business activities Payment systems without a permit
thetokole.com with direct sales system e-commerce business activities without permission
Totole (mytotole.com) with direct sales system e-commerce business activities using the OJK logo without permission
PT Sukses Indonetwork Digital/VITO with direct sales business activities without a license
Smartplan Community with crypto asset trading business activities without permission
Auto Sultan Community with business activities selling futures trading software that promises profit sharing without permission
Indonesia Binary Trader with unlicensed Forex Broker Aggregator business activities
SMARTXBOT with the business activity of selling a tiered scheme forex trading robot without permission
Antares with business activities selling tiered scheme forex robots without permission
FORSAGE, FORSAGE ETH, FORSAGE TRON with tiered scheme crypto asset trading business activities without permission
PT Tiara Global Propertindo with business activities offering investment without a permit
Golden Bird / Golden Bird (https://app.petbird88.com) with business activities offering bird investments using the OJK logo without permission
Sepadu Indonesia Bachelor Savings and Loans Cooperative with Money game/TikTok Cash organizer business activities
PT Exadana Visindo with money game business activities has a profit of 15 percent per week
Go-Champion with tiered system money game business activities
Tiktok Cash with a tiered money game business activity with the mode of giving commissions through Tiktok video likes and views
Blessings Sharing 2020 with money game business activities in the mode of helping each other
Gamebot.group with business activities money game mode of investment trading forex/forex, gold and crypto assets
The Rizki Sharing Community with money game business activities in the mode of helping each other
Commero Money game with business activities in mutual assistance mode
Share Results, Coin Video 1-2-3, Compass, Love Money, Umoney, Golden Age Asset/GAA with tiered system money game business activities
Snack Video with business activities of providing video content without permission.
3. List of Illegal Pawn Business Actors
Here is the list:
Amadeus Pawn
Asa Pawn
Mediatech Pawn
Pawn baroque
Easy Com
Joyo Lestari cooperative
Anonymous/Anonymous
Sharia Pawn Partners
New Jawa Pawn
Pawn Eagle
Greetings Pawn
Pawn Center
Come on Pawn
Setiaphone Cellular
Pawn Motor Jogja
Passionate Pawn Sharia
Prima Pawn
Conclusion
That's a list of bogus investments that you need to pay attention to, so you can be more careful when you want to invest.
Thus the article on How to Check the OJK Fake Investment List and don't forget to keep visiting the Infokekinian website.
Because we also have a lot of other information and recommendations which of course will be useful and help current friends.