Infokekinian.com – Recently, Bank Central Asia has released its newest platform called the MyBCA application. So, how do you register for a BCA ID account and what are the overall benefits.
Bank Central Asia or sometimes abbreviated as BCA is one of the most popular banks in Indonesia. BCA itself was chosen because of the ease of access and convenience of transactions.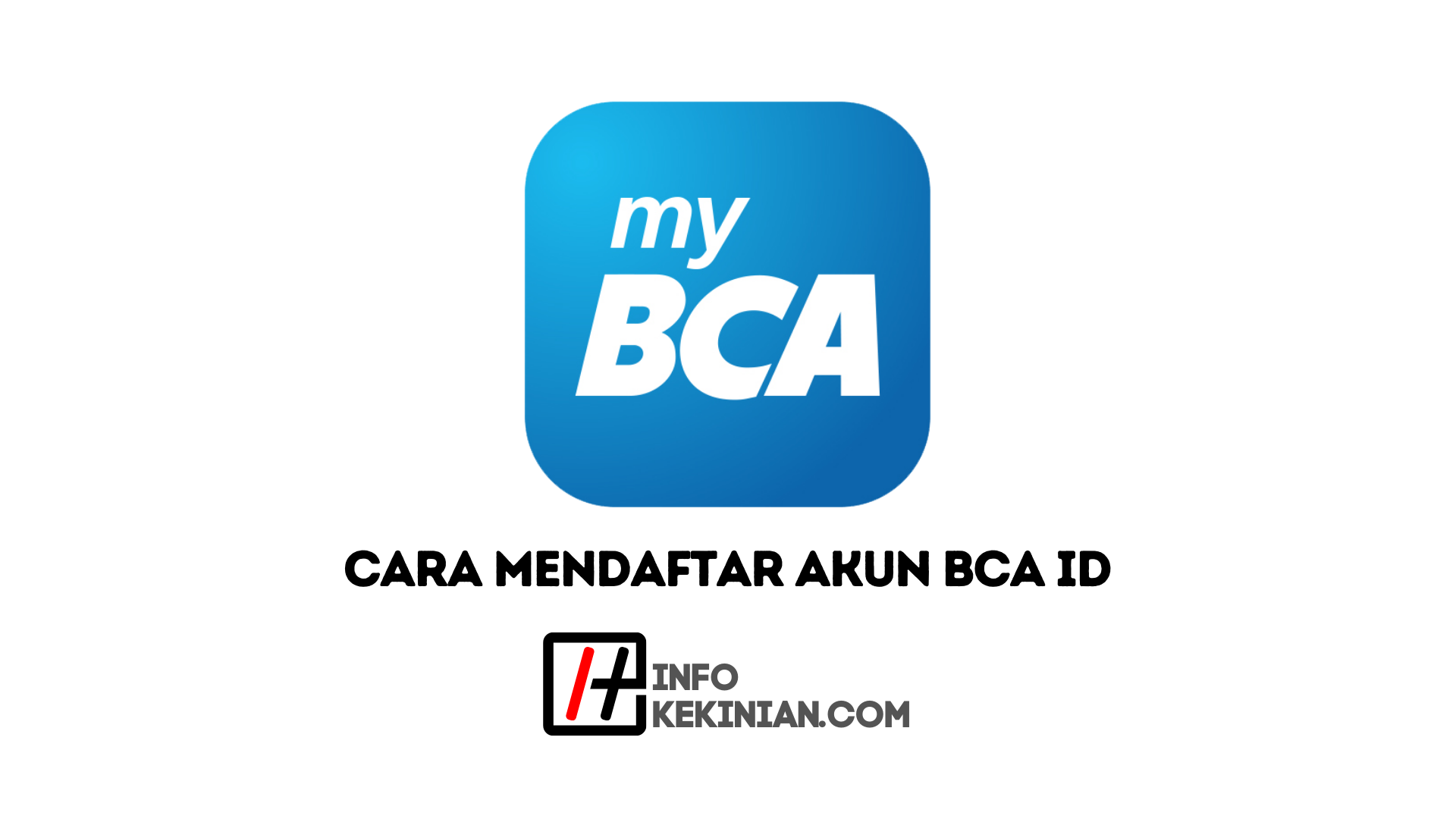 Now, BCA has just released its newest digital platform, namely the MyBCA application. One BCA ID can be used to log in to all BCA e-channels in only one platform.
What is the MyBCA Application
After the click BCA, Welma and BCA mobile features previously provided many benefits to customers. BCA again provides convenience by releasing the MyBCA application.
MyBCA is the newest digital platform that allows users to access various e-channel features with one username ID in a portal in this application only.
Not only that, this platform also applies to multiple accounts at once. So you could say this application can make users who have multiple accounts more practical to use the application.
The BCA ID here itself is not an account number, but an ID that you can set yourself in the form of characters and numbers (6-21 characters) that you can make yourself like a username on social media in general.
In addition, the password or password for this ID is also the same in the form of custom characters and numbers (6-12 characters). You can determine the BCA ID and password according to your own wishes.
MyBCA Portal
To access My BCA, you can use the application or website directly on the My BCA portal which can be accessed directly through the application which can be downloaded at the following link.
One ID on My BCA can be linked to one account number. Meanwhile, it is possible for users to have one or more IDs that can be created and linked to an account number.
Then this one ID is just a visa associated with one email and the ID and password are a secret that you can keep. Quite interesting, isn't the mechanism or system of the MyBCA application?
Not only that, users can also use the My BCA feature to access the Welma feature using the BCA ID registered in this application, and vice versa.
Some of the features available on My BCA include transfers, deposits, scheduled transactions and many more. Here's how to easily register or register for a BCA ID account on the MyBCA application.
How to Register BCA ID on the MyBCA Application
To register for an account or My BCA ID itself is the same as online registration as usual. If you don't know it, you can listen to the complete guide below:
Open the My BCA application on your cellphone.
Then select the registration menu to register.
Create a username ID using characters and numbers (6-21 characters).
Then also enter the active email used.
Next, create an account password using characters and numbers (6-12 characters).
Also enter your ATM card number.
Then you can also confirm your BCA Mobile pin if you have one.
If not, you can check your email for My BCA activation.
Done, My BCA account has been successfully created.
For now, users can enjoy a number of features in this application such as inter-bank or peer-to-peer transfers, BCA virtual accounts, Sakuku transfers, deposits, and scheduled transactions.
Apart from that, you can also view e-statements or bank statements which can be useful for viewing all of your transactions in certain months and exporting them as data.
Until now, the MyBCA application itself is still in the development stage, most likely in the next updates this application will get even more interesting features.
My BCA Account Personalization
After the ID username is created, you can also set the account that will be linked to My BCA. The trick is to personalize through the application directly:
Run the My BCA application and enter the settings menu by clicking the gear icon in the upper right corner.
Next, enter the BCA ID account personalization options.
Next, just choose which account number will be linked to the username ID.
After selecting the linked account number. Next, just create a 6-digit transaction PIN number, and My BCA is ready to be used to make transactions as usual.
Excess Features of My BCA
As previously mentioned, several features available on My BCA include transfers and deposits.
There is an e-deposit feature that allows you to open a deposit account online. This includes choosing the placement of deposit funds, types of deposits and withdrawals.
Then there is also an e-statement feature that allows you to see current account balances for the past 5 years.
Furthermore, there is the Merging Transfer List feature which allows you to import transactions to My BCA. As well as the Easy Transfer feature with a transfer limit of up to 300 million rupiah.
Apart from that, features such as checking balances, transferring accounts, checking account status, and so on are also available on My BCA.
Conclusion
That's a little information about how to register a BCA ID in the My BCA application. If it's still unclear, you can ask in the comments column.
Thus the article on How to Register for a BCA ID Account and don't forget to keep visiting the Infokekinian website.
Because we also have a lot of other information and recommendations which of course will be useful and help current friends.