Infokekinian.com – On this occasion, we will share information on how to easily register Shopee Food Drivers and Merchants, so watch this article to the end to find out more clear and complete information.
E-Commerce In January 2021, Shopee introduced a food delivery service. In Indonesia, the service known as Shopee Food is warmly welcomed by all walks of life.
People can earn more money with Shopee Food by becoming a food driver or delivery person.
Furthermore, this service helps business people (traders) in promoting their wares.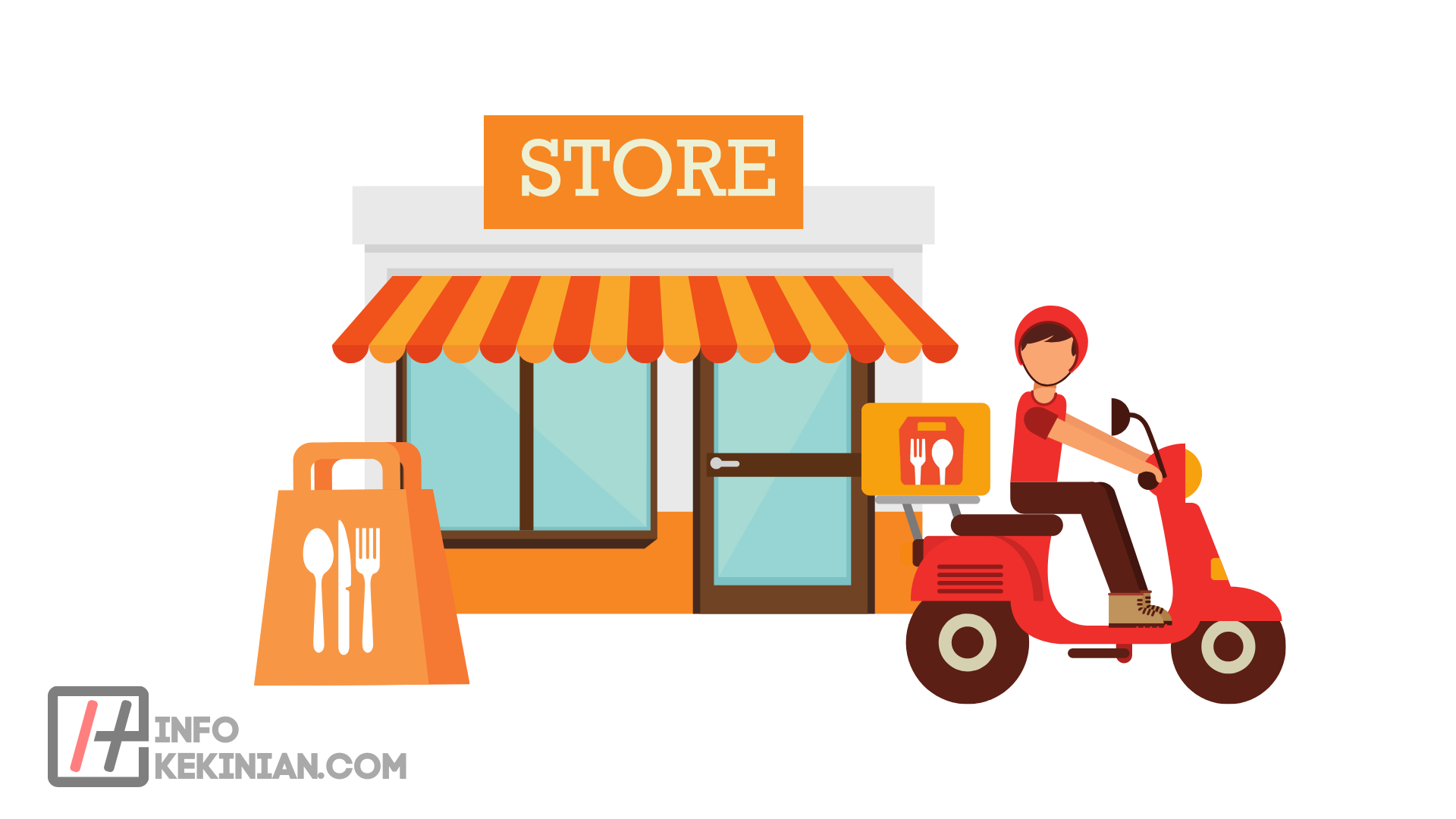 Shopee Food is very popular among Shopee users whose activities are limited outside the home, especially during the Covid-19 pandemic. Those of you who want to try to become a service partner should take advantage of this opportunity.
You must confirm the criteria before registering to become a driver, food delivery partner, or merchant. Next, you must know the features of the Shopee platform so you don't make mistakes.
Many people wonder if Shopee Food has its own app. Is there a special application for seller or merchant applications too? Here's the conversation.
Shopee Food Driver and Merchant Applications
Shopee Food is actually one of the services offered in the Shopee application. Where when you have the Shopee application it automatically includes Shopee Food in it, so there is no specific application for this service.
However, driver partners are required to download the Shopee Food Driver application. This is due to make it easier for drivers to receive orders and deliver them to their destination.
As for using the Shopee Food Driver, you must first register to become a driver via the form provided by Shopee.
Meanwhile, sellers or merchants also have their own application, namely Shopee Partner. Just like drivers, those of you who are going to sell your food must register first before using it.
This application can make it easier for sellers to manage orders, menus served, as well as income.
How to Register Shopee Food Driver
According to DIY News, to register for a Shopee Food Driver, you must first prepare the following requirements:
17-65 years old
KTP, SIM C, STNK (vehicle min. year 2012), and SKCK (can follow)
Have a savings account in the name of your KTP (BNI, BRI, or BCA)
Active e-mail address
Active phone number
Filling in form Click here 
After fulfilling the conditions above, you will be contacted by Shopee via Whatsapp or email no later than 1 month after sending the form. If you are confused about the registration steps, please contact Shopee Food Customer Service at 1500702.
How to Register a Shopee Food Merchant/Seller
Still sourced from DIY News, to register as a seller (merchant) at Shopee Food, you must go through the terms and stages that apply.
You need to know if there are two types of businesses, namely individuals and legal entities, as follows:
Individual Business Requirements
KTP/KITAS
SPPKP
NPWPD
Passbook's photo
Legal Entity Business Requirements
KTP/KITAS.
SIUP/TDUP.
NPWP.
TDP/NIB.
Certificate of Domicile (if located outside Jakarta).
Deed of Incorporation.
NPWPD.
Passbook's photo.
Meanwhile, you have to prepare other documents and this applies to all types of businesses. These documents are as follows:
Prepare 3 (three) popular menu photos with the following criteria:
Square shape (1:1) with dimensions of 720×720 pixels.
JPEG/JPG/PNG Formats.
Photos are in high resolution (highly recommended).
Registration form Click here 
After the request has been approved by Shopee Food, an agreement letter will be sent via email.
You must complete it and submit it to the nearest Shopee office. When it's finished, you can become a Shopee Food partner.
How to Download Applications
For those of you who have trouble finding the Shopee Food Driver and Merchant applications, Infokekinian has prepared the download link below. But before that, make sure that your account is registered and verified at Shopee Food.
Applications specifically for drivers Downloads Shopee Food Drivers. Meanwhile, merchants can click Downloads Shopee Partners (Merchants). The two links point to the Google Play Store on your smartphone.
Shopee Food features
Shopee Food really wants to provide the best service for its users, that's why this application is equipped with some interesting features as follows:
1. Discount Voucher up to 60%
For those of you who like to order food online, you can't miss this feature from Shopee Food.
This feature is the most sought after because it offers discounts of up to 60% for a maximum of IDR 25,000 which you can get for free every day.
In addition, discount vouchers from Shopee Food also vary as follows:
50% discount for a maximum of IDR 20,000 for payments via ShopeePay and partners.
30% discount for a maximum of IDR 20,000 for partners and other attractive discounts.
2. Free Shipping Vouchers every day
Another feature that is no less interesting is the free shipping voucher every day so you don't have to think about shipping costs for the orders you place. Shopee Food has provided free shipping vouchers of up to IDR 12,000 every day.
3. Fast Delivery
In order to provide fast service for customers, Shopee Food already has its own driver partner who will deliver your food and drink orders.
No need to wait long, the driver will immediately deliver your order whenever you order.
4. The menu varies from tens of thousands of merchants
At Shopee Food you won't get bored with the same menu, because various kinds of menus are available from tens of thousands of merchants at Shopee Food.
Starting from home-cooked food to well-known brands such as Burger King, KFC, ChaTime and others.
5. Easy Ordering and Payment System
At Shopee Food, you don't need an application or additional payment methods because everything is integrated with the Shopee Food application and the ShopeePay payment system, making it very practical and easy.
Apart from the ShopeePay payment method, there are also other payment methods that can be used as needed. Among them are bank transfers, credit cards to E-Wallets.
Advantages of Using Shopee Food
As a very popular shopping application, Shopee always wants to provide the best for its users.
In this case, there are several advantages to be had when using Shopee Food. These advantages are:
1. Benefits as a Shopee Food Merchant
Culinary entrepreneurs who join as merchants at Shopee Food will get the following benefits:
Able to expand market reach because the Shopee application is accessed by many people.
Can be a media promotion that is cheap and effective.
Potential to increase revenue due to a wider market.
Culinary product marketing is done easily and practically.
Get promo support from Shopee.
The payment system is easy, fast and can be disbursed anytime.
The work system is carried out online so that it is more flexible.
2. Benefits as a Shopee Food Driver
Not only does it benefit merchants who sell various kinds of food products at Shopee Food, driver partners who are in charge of delivering food will also get the following benefits:
The income as a driver partner at Shopee Food is quite large because it uses a profit sharing system.
Potential to increase monthly and daily income, especially with the incentives and bonuses provided.
Many orders are coming in so you don't have to worry about the lack of orders.
Easy payment system supported by many banking facilities.
3. Benefits as a Consumer
Using the Shopee Food application will certainly also benefit its users. The advantages of using Shopee Food services include:
The Shopee Food application is integrated with Shopee so there is no need to install it again.
Ordered food is delivered directly by the driver.
24 hour delivery service.
Get discounts or even free shipping directly.
You can use a discount voucher of 50% up to a nominal value of IDR 25,000.
The choice of merchants or restaurants and menus is very diverse.
Easy and practical payment system.
Conclusion
That's a little information about the requirements for registering to become a ShopeeFood driver or to become a Merchant, as well as the benefits.
Thus the article on How to Register Shopee Food Drivers and Merchants and don't forget to keep visiting the Infokekinian website.
Because we also have a lot of other information and recommendations which of course will be useful and help current friends.