InfoKekinian.com – Is there an iPhone camera app for Android? Yes, of course there is. Even apps can be downloaded for free from Google Play Store or apk supplier websites.
Well, this application might be a solution for those of you who want a photo shoot or video recording in the style of a well-known iPhone. Infokekini will provide some application references, let's see the explanation, OK?
It is undeniable that the HP iPhone camera is of high quality and can produce sharp photos like those produced with a DSLR.
There are a large number of camera related software programs available. In addition, various camera effects on the iPhone can also make pictures more interesting.
It's no wonder that the iPhone is widely used by celebrities, celebrities and TikTok celebrities because it can produce good videos that bring in more followers and views.
As an expensive smartphone, iPhone HP is not affordable for most people. Even if you don't have an iPhone or don't have the funds to buy one.
You can simulate using the iPhone camera by downloading the iPhone camera app on your computer or mobile device.
You can use iPhone camera effects apps for Android to produce a wide variety of images using this software.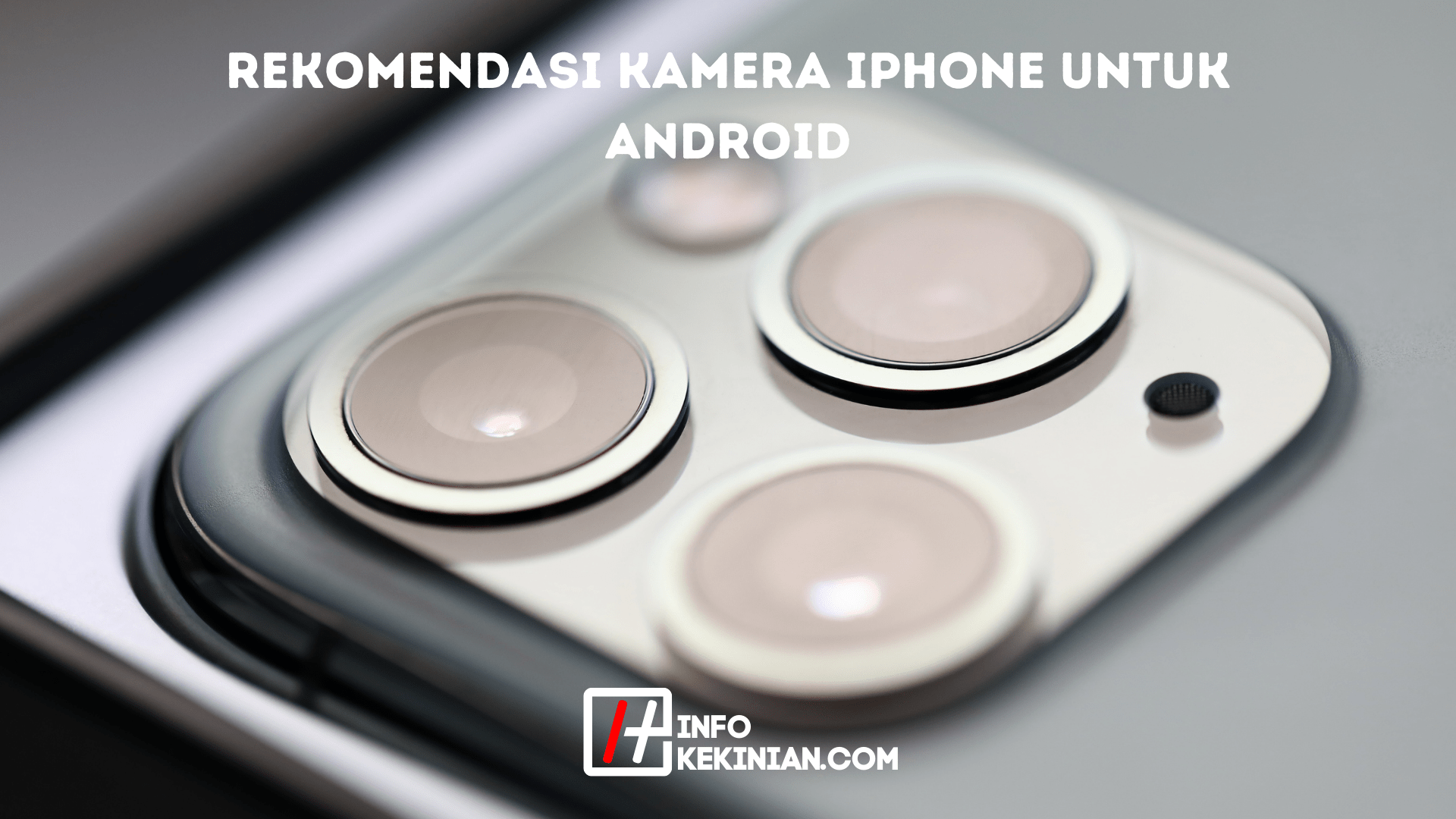 Iphone Camera App for Android
Here is the iOs camera application that we will recommend for contemporary friends.
1. Iphone Camera Application iCamera
The first application is called iCamera, this apk contains a number of amazing features and effects inspired by the iOS 14 camera on the iPhone 12 Series.
Beautiful natural scenes can be captured with the iCamera app's HD filters and panoramic shots. The results will surely amaze you.
2.OS13 Camera
The next app is OS13 Camera, which lets you use your Android phone's native camera app as if it were an iPhone.
The photos or movies are no less amazing than the first iPhone. Therefore, using the application is an absolute must.
3. Iphone Camera Application Footej Camera 2
Footej Camera 2 is described as one of the greatest camera apps which has been used by more than 5 million people.
In addition to a simple interface, this application has several features, ranging from excellent photo or video quality, exposure to focus from various locations, manual ISO, shutter speed adjustment, and much more.
4. Cameringo Lite
A professional photographer is a dream job for many people. With Cameringo Lite you can turn basic pictures into spectacular masterpieces like they were taken with an expensive camera.
Filters and effects in Cameringo Lite include lomo, retro, ultrawide, and fisheye. You can also produce small planet photos using stereographics.
But before installing this application, make sure the Android phone you are using is running at least a 4.3 (Jelly Bean) operating system or higher.
5. Iphone Protake Camera Application
Protake is one of the preferred software commonly used by Indonesian vloggers or celebrities. This is because the Protake app is loaded with advanced functions that other camera apps don't have.
You can save storage space by selecting different frame rates for different video resolutions when using the video editing app Protake. So for those of you who are just starting a career as a vlogger, this application is highly recommended.
6. Camera FV-5 Lite
Next is Camera FV-5 Lite which is dubbed as a professional camera application for mobile devices which is perfect for photography lovers.
Since it includes a wide range of options for everything from exposure compensation to focus modes to white balance, this app is very feature rich.
The application itself is quite light because it is only 5.6 MB in size. Now that you know what you're missing, go ahead and download the Camera FV-5 Lite app!
7. Camera OS14
This app, like OS13 Camera, provides a photography experience similar to that of an Apple device with lots of unique effects and filters.
Conclusion
So, those are some of the applications that Infokekinian recommends, for friends who are currently iPhone lovers, you can choose the application above to take pictures with photo features like the iPhone. Hope it's useful!