Toyota Sienta - Do you know, friend, that Toyota will release its newest car, the Toyota Sienta. Yak Toyota Sienta is an MPV car with a very elegant design concept and very pleasing to the eye. Toyota Sienta itself since it was officially announced at the 2016 Indonesia International Motor Show (IIMS) has attracted a lot of attention. Are you guys interested too?
The number of consumers who are interested in the Toyota Sienta is even used by some irresponsible parties to hold fake contests with prizes for the Toyota Sienta on Facebook. For friends who have continued to participate, you should be careful, because the official Toyota has confirmed that the contest is fake.
Then what makes the Toyota Sienta attract a lot of attention? In my opinion, the main attraction is of course the beautiful design of this car itself. Are you curious, how does this car look like? Here I show a picture of the 2016 Toyota Sienta.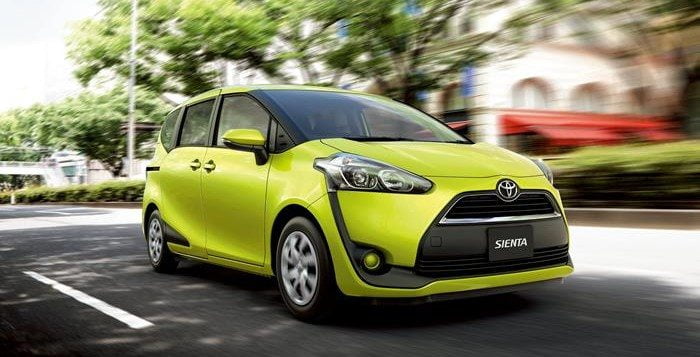 Not only is the design attractive, the features offered by the Toyota Sienta are also quite complete. As for security and safety features, the Toyota Sienta features an immobilizer, airbags, ABS, BA and EBD. Another feature that is quite popular is the Toyota Sienta door. This car carries a door with a sliding door model with dual power, making it very easy for passengers who want to get in and out of this car.
In terms of seating capacity, this Toyota Sienta has 7 seats which of course is very sufficient as a family vehicle. However, for the third row of seats, it is still too small to be occupied by an adult. However, the middle seat and third row seats can be folded and can fit a large bicycle.
For more details, you can see the Product Video from the Toyota Sienta Car which was uploaded on the Official Youtube Channel from Toyota Indonesia below.

Oh yes, this car itself consists of various types that you can choose according to your needs. What are the differences from these types of Toyota Sienta? In the following I present a table of specifications for each type of Toyota Sienta.
Toyota Sienta specifications
Type

E

G

V

Q

Machine

Type
2NR-FE dual VVT-i
Power/Torque
107 Ps/14.6 kgm
Transmission
MT/CVT
MT/CVT
MT/CVT
CVT

Exterior

Headlamp
Halogen Projection With Leveling
Bi-Beam LED+Auto Leveling
Foglamp
No
Yes
Rims
Steel 15″+Cover
Alloy 15″
Alloy 16″
Alloy 16″

Interiors

Seat
Up to 7 People
air conditioning
Analog
Analog, Double Blower
Auto Digital, Double Blower
Speedometer
Monochrome MID
TFT LCD 4.2″
Entertainment
Double-Din USB/MP3
5.6″Touchscreen, Miracast, Bluetooth, AirGesture
Interior Color
Black
Dark Brown and Black/Fromage and Black Alloy (only for certain body colors)

Security and Safety

Security
Remote Alarms
Remote Alarm + Immobilizer
Brake System
Disc Brakes
Disc Brake, ABS
Key
There is
Keyless
VSC
No
There is
HSA
No
There is
Airbags
Front Seat
Sliding Doors
Manuals
Electric Sliding Doors
ISOFIX
Yes
Parking Sensors
Yes
Then what about the price? This Toyota Sienta is priced at less than 300 million rupiah for the most expensive type, namely the Q CVT type. For more details, please see the Toyota Sienta price table below.
Toyota Sienta price
| | |
| --- | --- |
| Type | Price |
| Toyota Sienta E (MT) | IDR 230 million |
| Toyota Sienta E (CVT) | IDR 245 million |
| Toyota Sienta G (MT) | IDR 245 million |
| Toyota Sienta G (CVT) | IDR 260 million |
| Toyota Sienta V (MT) | IDR 260 million |
| Toyota Sienta V (CVT) | IDR 275 million |
| Toyota Sienta Q (CVT) | IDR 295 million |
OK, that was a little bit of information about it Toyota Sienta, MPV from Toyota with a charming design. Interested in owning this car? Hopefully the information I provide above can help you in making a choice when buying. OK, greetings, friends: V