Infokekinian.com – On this occasion, I will recommend a mind mapping application for laptops, which can help you in making mind maps.
For a student, a mind map is useful in remembering study notes. For workers, mind maps can be a tool for brainstorming or team collaboration.
Brainstorming groups at work use mind mapping techniques to solve problems and make choices.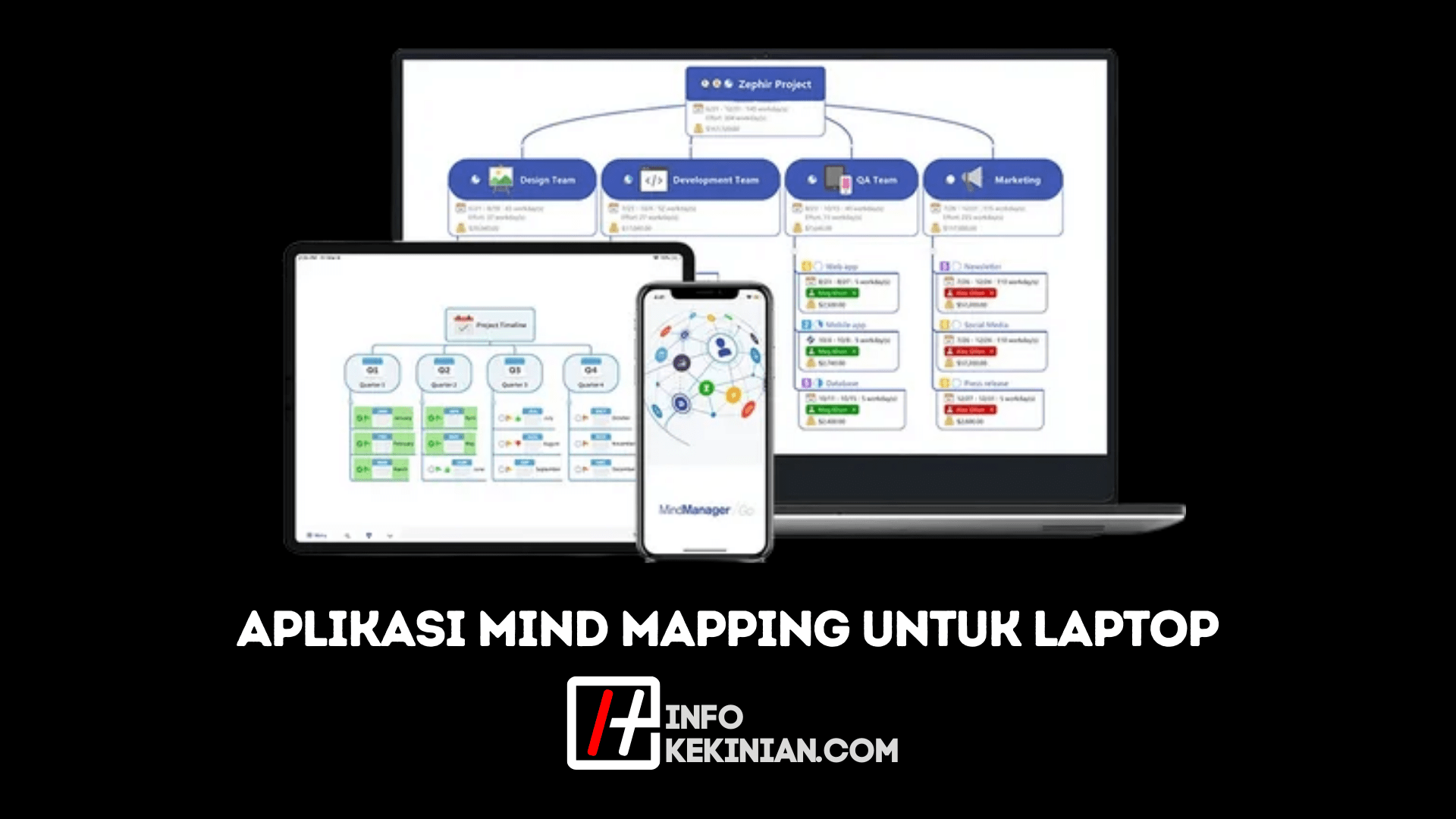 Do you want to develop an agenda for an annual conference or plan your time as a manager? Mind mapped SWOT analysis can help you find deficiencies or opportunities in your plan.
Mind Mapping function
You can apply mind maps to:
Estimating profits
Preparation for a job interview
Product development and marketing
Refine Proposals
Organize trade shows
Planning an office party
Popular Mind Mapping Application
FreeMind, XMind, and MindJet (formerly Mindmanager) are popular mind map applications today.
However, because all of these applications do not include everything you might need, here are some mind mapping applications that you can consider.
Mind Mapping application
Here are the applications that you can use:
1. Coggles
This mind mapping application is a Chrome extension. You can use it directly in your browser instead of installing it as a Chrome extension.
Coggle saves your work in the browser too. Coggle comes in three variants including Free, Awesome, and Organization.
The free version lets you create unlimited maps, so Coggle should be good enough for your needs.
The commercial version comes with features like presentation mode and unlimited personal mind maps.
2. Mind Mapple
MindMaple is a desktop and iOS app that has free and pro versions. MindMapple includes themes and templates by default.
Visual thinkers will love this app as it allows to add pictures and clip-art.
Choose any topic on your mind map and use the Clip Art library to add appropriate images.
MindMapple has a robust feature set to tackle larger projects. Several mind maps can be compiled in one document.
You can track topics with priority and important timelines for project management. I recommend MindMapple because of its completeness.
The Pro version gives you advanced features like PDF export, password security and export to Microsoft Office.
3. NovaMind
NovaMind is a cross-platform brainstorming application that can be used on Windows desktop, Windows 8, iPad, Mac OS X, or Android, and online as NovaMind Cloud.
NovaMind is a commercial application but has a free version which is quite capable. When you first start NovaMind you will be presented with an interactive tutorial to introduce the basic concepts.
The app has a useful layout which helps you design quickly as the topics are not allowed to overlap on top of each other.
4. Sketchboards
Sketchboard seems more towards collaboration whiteboards than mind mapping specific applications. But whiteboards are essential for collaborative brainstorming paired with a good chat app.
You can also integrate Sketchboard with internal team communication tools like Slack, Google Drive, HipChat, GitHub, and FlowDock. Like the majority of mind mapping tools, Sketchboard.io also comes with a choice of free and paid packages.
5. Visual Understanding Environment
The Visual Understanding Environment (VUE) is an Open Source project from Tufts University. The latest version of this app was released in October this year.
This cross-platform mind mapping application is designed for teaching, learning, and research.
But you can change it back according to your needs. VUE can handle complex maps well.
Conclusion
That's a list of mind mapping applications that you can try and choose one of the recommendations above, which suits your needs.
Thus the article about mind mapping applications for laptops, and don't forget to keep visiting the Infokekinian website.
Because we also have a lot of other information and recommendations which of course will be useful and help you right now.