infoKekinian.com – Jake Gyllenhaal will show his actions in his new film, Infokekinian will examine the facts and synopsis of the film Ambulance, starring Jake Gyllenhaal. Come on, see the following explanation!
This time, the feel of the 'Fast & Furious' chase is presented only from the ambulance. 'Ambulance' is a crime action thriller film co-produced by Republic Pictures, Endeavor Content, Project X Entertainment and Bay Film.
"Ambulans" will be broadcast in Indonesia on March 16, 2022 thanks to Universal Pictures for bringing it there. Cineverse has the opportunity to screen the film on March 15, 2022 at Epicentrum XXI, Jakarta.
Indonesia is one of the countries that has the opportunity to be shown for the first time, even in America itself this film will only be shown 3 weeks after its premiere in Indonesia.
This film is a remake of the 2005 Danish film of the same name by Laurits Munch-Petersen and Lars Andrean Pedersen.
Actually, this film project has been planned since 2015, but only in 2020 with Bay as the director. The film stars Jake Gyllenhaal, Yahya Abdul-Mateen II, and Eiza González, as well as several other supporting police roles.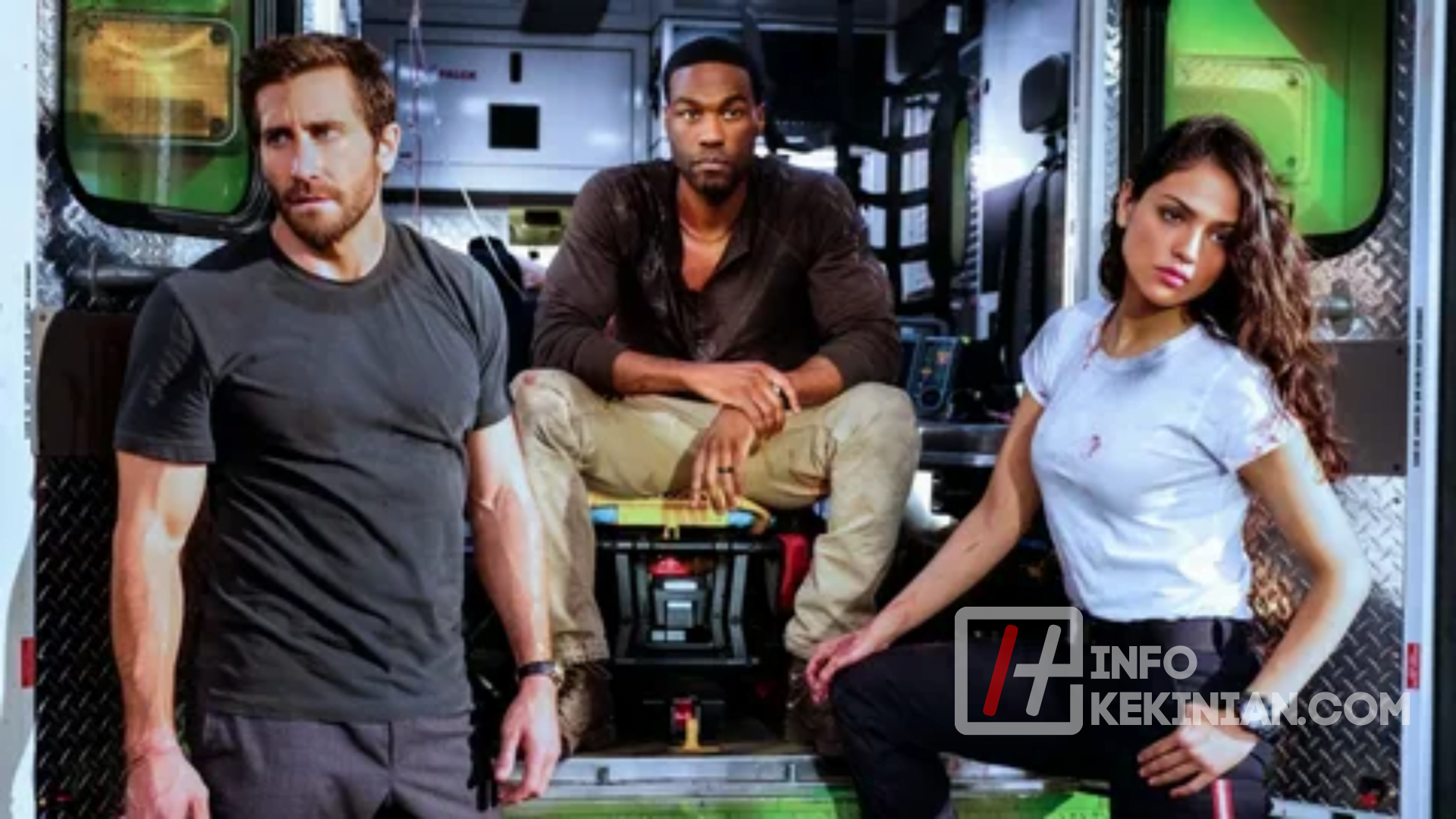 Ambulance Film Facts and Synopsis
An American army veteran, William Sharp (Yahya Abdul-Mateen II), is forced to raise the necessary funds for his son's surgery. Desperate for insurance and other funds, Will contacts his half-brother Daniels/Danny Sharp (Jake Gyllenhaal) for money.
Danny invites Will to commit a bank robbery at the LA Federal Bank. The plan with Danny's men was immediately carried out that day.
An initially successful bank robbery becomes a disaster when they are surrounded by a large number of police officers and have to flee. While escaping, Will is forced to shoot one of the police officers named Zach (Jackson White) (Jackson White).
The ambulance, which arrives to save Zach, is used by Will and Danny to escape. There is a female EMT medic named Cam Thompson (Eiza González) who is brought in.
Cam is taken hostage while saving officer Zach who is dying from being shot. The ambulance tricked the police, but only for a short time. During rush hour traffic in downtown Los Angeles, the FBI engages in a high-speed police chase.
Danny and Will struggle to find a way to keep away from the dozens of city police who are chasing them, even helicopters come down to catch the ambulance.
Ambulance Movie Facts
The following are some facts about the film Ambulance
1. Chemistry Between Two Brothers
This brother and sister duo emerged with their strong instincts from childhood. Several flashbacks of their childhood sibling relationship further strengthens the duo, even though they are only half-siblings.
Will and Danny are forced to run after accidentally shooting a police officer while trying to escape.
The role of this duo is very prominent to lead the match 'Ambulance'. The film's chemistry, which can only be understood from the confines of the car, is brilliant. With each passing police officer, the precarious situation that binds the emotions of these two brothers becomes more pronounced.
The role that stood out the most was that of Gyllenhaal with the role of Danny fitting perfectly. The role of the antagonist has always been a delicious meal for him. Since he appeared in "Spider-Man: Far From Home," the dual antagonist role has suited Tom Holland perfectly.
In 'Ambulance', Gyllenhaal brings a broader plot to be more directed to the theme of crime. you will find out more about the big plot that brings Danny's character to a more interesting direction in this film.
2. This Time Supporting Criminals – Facts and Synopsis of the Film Ambulance
Will and Danny, the two front-runners in the villain race, don't receive a majority of the votes. We'll be supporting Will and Danny all the time, hoping they can evade the police.
Seeing what happened inside the ambulance, it was a stark contrast to what was very precarious outside the ambulance.
Various types of vehicles chasing one ambulance seemed redundant, and several helicopters also took to the streets to chase this ambulance.
We sympathize with this team of brothers even more because the police have been so coy about Will's whereabouts. Will is an excellent cop who has been known to con the authorities on several occasions (perhaps there will be more flashbacks of him participating in wars when he was in the army).
It's different from the police who are very brutal in pursuit, like there is no ability to drive a police car that has great power.
Many policemen fall victim to chasing him because of his own stupidity, this becomes a little clumsy or only prioritizes action.
3. Michael Bay's Mad Romp
It's incomplete if we don't discuss the action film 'Ambulance' which is the work that came out of Michael Bay's brain. We will always remember 'Transformers' in some of his works.
This film has a distinct 'Transformers' vibe. Despite the fact that there's only one ambulance in the lead, the chase is visually stunning, thanks to some creative use of spotlights and camera angles.
There will be a greater emphasis on a Michael Bay-style ambulance type chase through the city, complete with gunfights and explosions.
Supported by various camera angles, the many drone cams that take pictures from above and the dynamics of camera movement makes us feel even more like we are in the middle of a crowd of cars fighting on the streets of Los Angeles.
A helicopter chasing a car is an unequal opponent. But Michael Bay didn't give up. The helicopter maneuvers approaching the highway as seen in the trailer are the main attraction and a tense element in the film.
Increases our adrenaline and makes us think about how to escape from the helicopters that are chasing us with even greater power.
The car stunts and explosions are reminiscent of the previous film '6 Underground' (2019), which also featured a crime scene interrupted by car stunts.
Despite the fact that some people may think it is excessive, our adrenaline rush is further increased because of this element. Not a few, we will see cars become victims in this pursuit process.
4. Ambulance is not just an object of escape
Another brilliant robbery which involved using an ambulance to transport the robbers to safety. Not only as a vehicle, the elements in an ambulance whose main purpose is to bring patients and save them are still presented in this film. The police officer was shot while trying to escape.
The medical aspect also comes up with quite a lot of things that are no joke. Officers who almost died from being shot must be treated in such a way in the middle of a speeding car.
The medical science taken from some of Cam's early EMT scenes is quite representative. Medical procedures carried out in the ambulance were expedited not only by Cam, Will and Danny.
5. A Brief Background Filled With Emotion
The premise of 'Ambulance' is short and straightforward. Even in the early minutes, 'Ambulance' immediately took us to the heist of Danny and his accomplice and Will.
Will's previous experience of being in dire financial straits inspires him to act, and he eventually flees with the money.
It is this bond of two brothers that carries our emotions. Will is a child who was adopted and raised by Danny's family. Will feels he owes him quite a bit, but their adult relationship is not very harmonious.
The mystery of the relationship between the two brothers emerged from both sides. Danny's background is to get into the world of crime, while Will, who serves the country, becomes a soldier.
The ambulance blurs two different backgrounds, creating an unexpected visual effect. Throughout the emotional pursuit of things, it reaches us.
Conclusion
So, those are some reviews about the facts and synopsis of the film Ambulance, Jake Gyllenhaal will appear with his actions as a robber in the film. Are you curious about the film? You can watch it on several foreign TV applications if it's not available in theaters anymore.