Infokekinian.com – The following is information regarding the opening of batch 31 pre-employment card registration: Following are the terms and the access link. So see this article to the end to find out more complete and clear information.
Good news for those of you who are currently unemployed, have just experienced termination of employment (PHK) from the company where you work or you haven't passed the Pre-Employment Card Program several previous editions.
Or haven't completed the registration yet, now the Government is again opening registration for the 31st Batch of Pre-Employment Cards starting Saturday, May 28, 2022.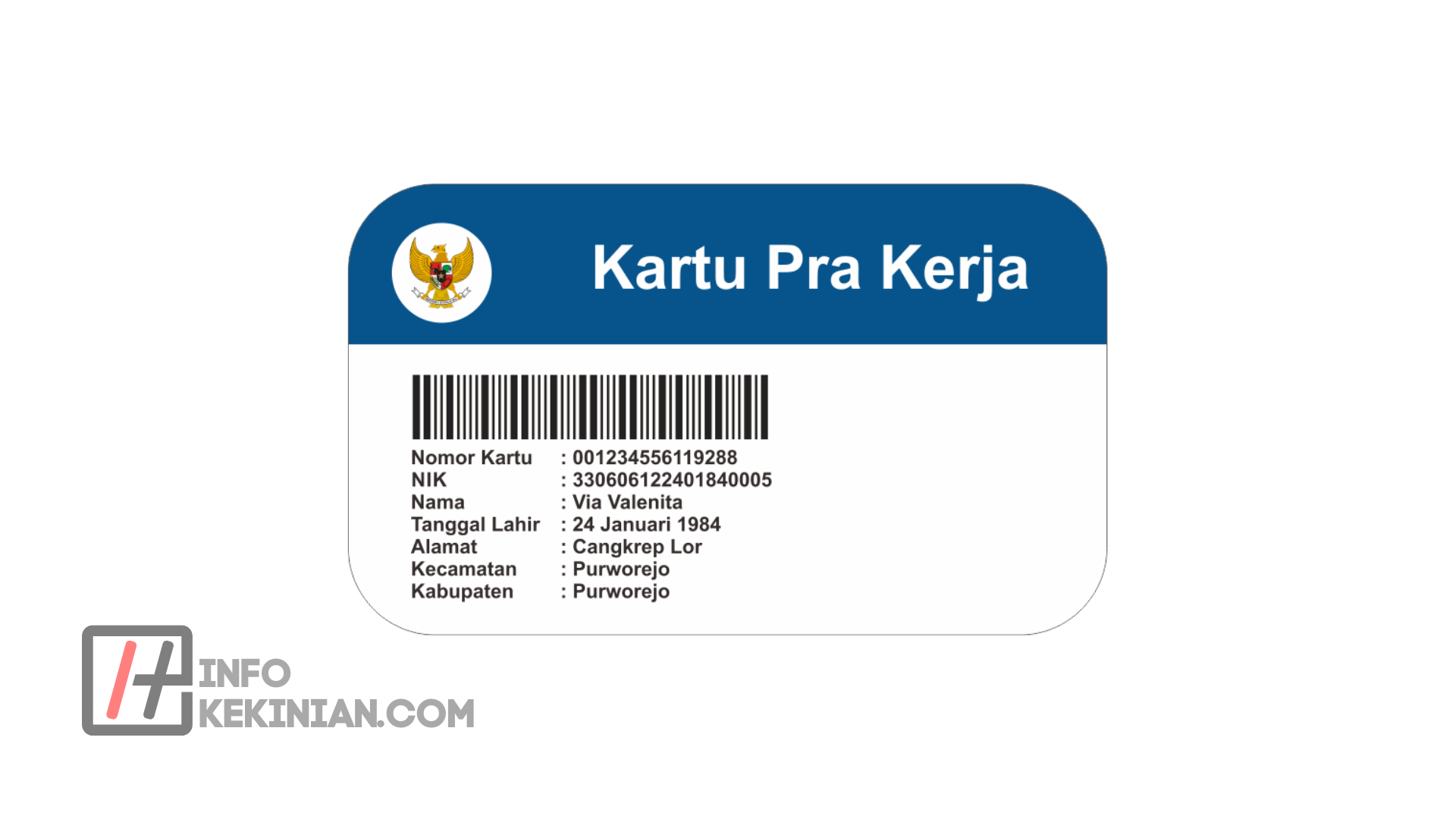 Overview of the Pre-Employment Card
The Pre-Employment Card Program is a work competency development program aimed at job seekers, workers/laborers who have been terminated, and/or workers/laborers who need work competency improvement.
Pre-Employment Card Requirements
The conditions for participating in the Pre-Employment Card program include:
Indonesian citizens aged 18 years and over.
Not currently pursuing formal education.
Currently looking for work, workers/laborers who have been laid off, or workers/laborers who need work competency improvement, such as workers/laborers who have been laid off and workers who are not wage earners, including micro & small business actors.
Not other social assistance recipients during the COVID-19 pandemic.
Not State Officials, DPRD Leaders and Members, ASN, TNI Soldiers, Police Members, Village Heads and village officials and Directors/Commissioners/Supervisory Boards in BUMN or BUMD.
Maximum of 2 NIK in 1 KK who become Pre-Employment Card Recipients.
Those Who Are Not Entitled to Get a Pre-Employment Card
The following are categories of people who are not entitled to get a Pre-Employment Card:
State officials
Leaders and Members of the Regional People's Representative Council
State Civil Apparatus
Soldier of the Indonesian National Armed Forces
Member of the Indonesian National Police
Village head and village apparatus; And
Directors, Commissioners and Supervisory Boards in state-owned enterprises or regionally-owned enterprises.
Purpose of the Pre-Employment Card
The following are the objectives of the Pre-Employment Karu program:
Help reduce training costs borne by workers and companies
Reduce the cost of finding information about training
Encouraging work by reducing mismatches.
Be a complement to formal education.
Helping the purchasing power of people affected by their livelihoods due to COVID-19.
How to Register for a Pre-Employment Card
Here's how to register for a Pre-Employment Card, as reported by the official Instagram:
Open www.prakerja.go.id on your cellphone or computer browser
Prepare your Family Card number and NIK, enter your personal data, and follow the on-screen instructions to complete the account checking process
Prepare paper and writing tools to take the Motivational and Basic Ability Tests online
Click "Join" on the Wave that is currently open
Wait for the announcement of the participants pass the selection Wave through the Pre-Work dashboard
*For those of you whose accounts have been verified, don't forget to log in and click Join Batch 31 so you can enter the selection stage
What you get from pre-employment cards
For those who were accepted as Pre-Employment Card participants in the previous several editions, there are several benefits to be received.
Based on the experience of Batch 1 Pre-Employment Card Participants to date, these benefits include:
Get Training Vouchers with a total value of Rp. 1,000,0000 which can be used to finance training on digital platforms in collaboration with the Pre-Employment Card
Get a training incentive of Rp. 600,000/month for 4 months
Get Survey Incentives
Conclusion
That's a little information about the Pre-Employment card program, for those of us who want to register as participants in the Batch 31 Pre-Employment Card program, click the link below:
www.prakerja.go.id
Thus the article regarding Batch 31 Pre-Employment Card Registration is Open: Following are the Terms and Access Links and don't forget to continue to visit the Infokekinian website.
Because we also have a lot of other information and recommendations which of course will be useful and help current friends.