Infokekinian.com – On this occasion, I will share a synopsis and interesting facts about the drama Itaewon Class, so watch this article until it's finished to find out more complete and clear information.
Many internet users now use Telegram to watch movies and dramas. Because, as we all know, Telegram can handle files up to 2GB in one upload.
Therefore, to be able to watch Itaewon Calss, let's take a look at all the discussions below that we have prepared for you.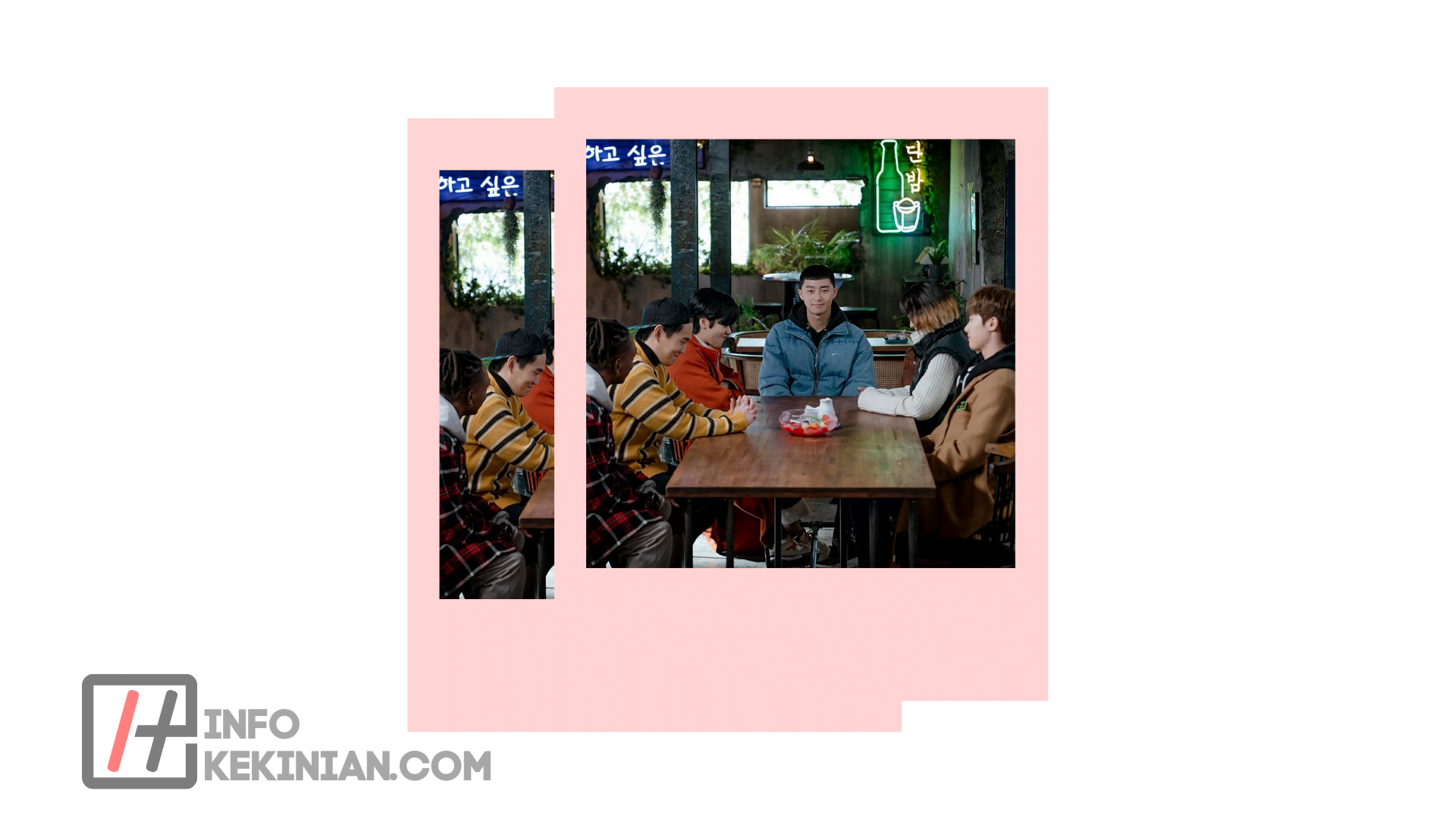 Synopsis Itaewon Class
Itaewon Class is a drama adaptation of the KakaoPage comic of the same name, which tells the story of brave and tenacious young people who are also full of pain and misadventures.
Especially the main character, Park Sae Ro Yi, played by Park Seo Joon. He was like falling down a ladder and then hit by a barrage of tiles.
He is a person who does not like injustice, Sae Ro Yi even hit his classmate who likes to bully on the first day of school.
The child who was hit was named Jang Geun Won, he is the son of the CEO of the Jangga Food company where his father Sae Ro Yi works.
Geun Won's father, Jang Dae Hee, demands that Sae Ro Yi apologize to his son, but Sae Ro Yi, who insists that he is innocent, refuses this.
This made Dae Hee furious and fired his father Sae Ro Yi and expelled him from school.
Not long after that, his beloved father died in a motorcycle accident and it was none other than Geun Won who hit him.
Sae Ro Yi cannot remain silent, he is furious and takes revenge. But bad luck again befell him, he was put in prison due to violence against Geun Won.
Since then he decided to take revenge to destroy the Jangga company. After getting out of prison he opened a restaurant in Itaewon.
Since then he began to make friends with fellow youths who were stubborn and wanted justice like him.
There are many more bitter things that Sae Ro Yi experienced, what kind of ending will Sae Ro Yi receive?
Immediately, you can watch in full through your favorite application or site. Also make sure not to miss any of the scenes.
Interesting Facts about Itaewon Class Drama
This film is one of the best romantic Korean films. Starring top actor Park Soe Joon, this drama is much loved by his fans. In 2020, this series is adapted from the same webtoon.
There are several interesting facts that make this drama get a high rating, namely:
1. Has an Interesting Storyline
In order to present a different story, this drama has an interesting plot. Film Itaewon Class is about ex-convict Park Sae-roy starring Park Seo-joon, whose life is turned upside down.
After being expelled from school, he was involved in a case of punching a bully. Then his father was killed in an accident.
Following in his father's footsteps, he opened a restaurant bar "DanBam" in Itaewon area with his manager and staff, he strives to reach higher levels of success.
2. Interesting Figures
If you are bored with the characters or characters in k-drama, it seems monotonous and predictable.
Itaewon Class presents various characters who have various backgrounds to sexual orientations.
For example, like the character Ma Hyun Yi, she is transgender. Not only that, Tony Kim's character also has African-Korean blood.
In fact, there are still many other characters with unique roles that seem different from other dramas.
3. Kwang Jin's participation
The best Korean drama Itaewon Class is adapted from a webtoon created by Kwang Jin. It's not even half-hearted, in this drama Kwang Jin directly participates in being the scriptwriter of the film.
Thanks to his cold hands, he has succeeded in making webtoons and the Korean drama Itaewon Class become the favorite dramas abroad.
Even thanks to his slick role in Korean dramas, it is reported that Park Soe Joon is preparing to play in a Hollywood film.
4. Earned High Ratings
From the beginning to the end of its broadcast, this most popular drama managed to get a high rating, averaging 12.957% (Seoul) and 11.832% (national in Korea). The rating graph itself has increased.
With the acquisition of a high rating, the drakor film Itaewon Class is one of the K-dramas that has the highest rating broadcast by JTBC stations.
5. Location of Itaewon Class
In this drama film, Itaewon itself is a residential area located in the Yongsan-gu district, Seoul.
Where the place is very attached to US soldiers who are on duty in South Korea and tourists.
Not only that, there are many restaurants selling a variety of foreign food from Thailand, India, the Middle East to Mexico.
With an interesting background, maybe it could be your tourist destination when visiting South Korea.
6. Won a Prestigious Award
Filled with famous actors and actresses who are reliable in acting, supported by seasoned directors and writers.
It's no wonder that Itaewon Class is not only able to steal the hearts of the audience. But also able to win many awards.
There have been various successful awards won by soundtrack fillers to drama Itaewon Class players. Among them is "Drama of the Year" (7th APAN Star Awards).
"Best Mini Series Silver Bird Prize" (15th Seoul International Drama Awards). Up to "Best Drama Series" (25th Asian Television Awards).
Watch Itaewon Class Sub Indo Telegram
Itaewon Class is a drama that was released on January 31, 2020. This drama reaped a lot of praise because of its high rating with a rating of around 18 percent until the end of the broadcast.
Broadcast on the JTBC channel, Itaewon Class has a total of 16 episodes with a duration of 70 minutes per episode.
Airing every Friday and Saturday at 21.00 WIB, this drama is always looked forward to every continuation of the episode because it makes us curious.
Moreover, Park Seo Joon took part in this drama, making Itaewon Class's popularity increase. Now, to be able to watch it, you can stream via Netflix or Viu.
But to be able to enjoy it you have to subscribe first. If you don't want to subscribe and prefer free ones, you can watch them via the Telegram application.
Through Telegram you can find various kinds of Drakor that are distributed and of course, they include Indonesian subtitles.
To be able to watch Itaewon Class you can use the link following. All you have to do is click on the link, then join the channel.
After that, all you have to do is look for the video episode 1 and download it first. When it's finished, all you have to do is watch and do the same thing in another episode.
Make sure your storage space and quota are sufficient because the video size can be quite large when you want to watch Itaewon Class Sub Indo Telegram.
Alternative Place to Watch Itaewon Class
For an alternative place to watch, you can download it through sites that provide Drakor with Indonesian subtitles. Apart from that, you can also search for it on Google.
You can get it through sites like Drakorindo, Doramaindo, and other similar sites. Or you can also look for it through the following Indo sub Drakor collection channels.
How to find it, you just have to click the search button above then enter the keyword Itaewon Class, then if you find it, you just have to watch it.
Conclusion
That's a little information about the synopsis of the Korean drama entitled Itaewon Class, starring Park Seo Joon. Along with links and alternative places to watch the drama.
Thus the article regarding Synopsis and Interesting Facts about Drama Itaewon Class and don't forget to keep visiting the Infokekinian website.
Because we also have a lot of other information and recommendations which of course will be useful and help current friends.