Infokekinian.com – On this occasion I will share information about the types of partners in the Shopee Affiliate program, so see this article for more complete and clear information.
Shopee is one of the most popular online shopping applications in Indonesia. Shopee as the largest marketplace often holds interesting promotional and collaboration events for its users.
The Shopee Affiliate Program is one program worth trying. Shopee has created this program to enable its users to work as nano ambassadors to spread the word about Shopee.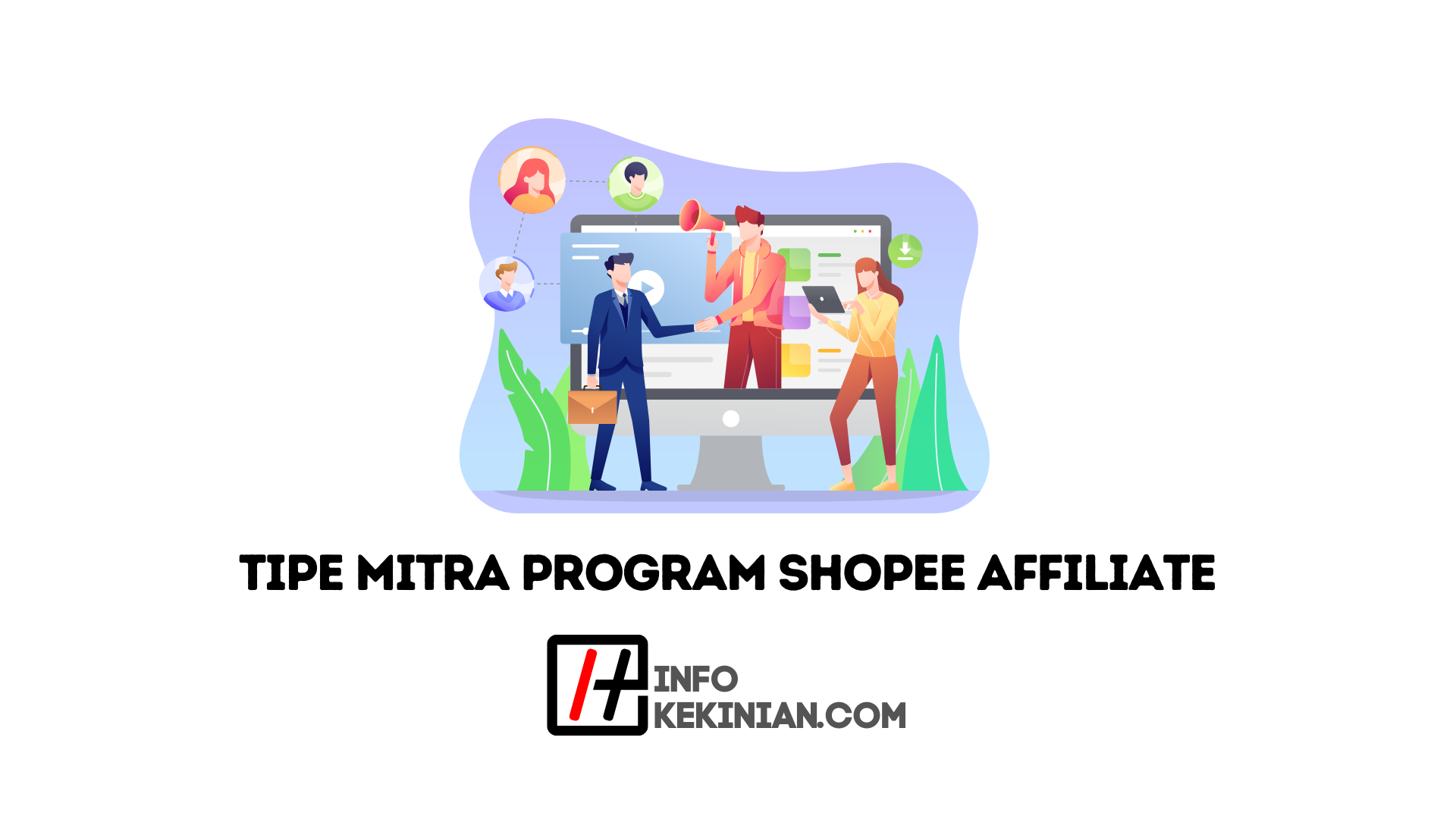 What is the Shopee Affiliate Program?
So this program is one of the opportunities provided by Shopee to influencers.
If usually these influencers benefit from endorsements. So with this program they are offered to work together directly to endorse Shopee.
We know that Shopee itself often works with international stars such as Blackpink, Ronaldo or Tukul Arwana.
Or do you often watch celebrity programs live on Shopee? Well here is one such opportunity. You can become a Shopee nano ambassador and of course get a decent profit too.
The way it works itself is that you can promote Shopee applications and products on other social media.
Like Instagram, YouTube, Facebook, TikTok and others. So you only need promotion and will get a commission from every product that is promoted.
For self-payment, you can withdraw a balance with a minimum of 10 thousand and use the transfer method to your account. Pretty interesting right?
Type of Shopee Affiliate Partner
In recruiting nano ambassadors and becoming a Shopee affiliate partner, there are several qualifications and types.
This will be adjusted to the conditions of the users themselves and also the strengths of each influencer.
To become a shopee affiliate partner, you must at least meet sufficient qualifications. Some of these qualifications leave 5 types of Shopee Affiliate partners including:
Youtube influencers must have a minimum of 8,000 YouTube subscribers.
Influencers or Selebgrams have at least 5,000 Instagram followers.
Tiktok influencers must have at least 5,000 TikTok followers.
Influencers on Twitter have a minimum of 10,000 Twitter followers.
For Facebook account owners, they have 2,000 friends on a personal account and are active as admins
Groups or Fans Pages with a minimum of 1,000 Followers in Groups and Pages.
Those are the 5 types of Shopee Affiliate partners currently in effect. If you already meet the qualifications, you can just register and have the opportunity to become a partner and make money.
Later each Shopee Affiliate partner will receive a commission of 10 % from each collaboration.
Commission Details According to Performance
As explained, each of these partners will receive a commission according to their performance in promoting Shopee's own products and applications.
Besides that, your performance in doing partnerships will also affect the income that will be obtained. Maybe an overview of this income is like the following which you can check here.
Such is the picture of the breakdown of income if we calculate it according to performance in the field. Of course very interesting is not it?
This program will be very useful and a very open opportunity, especially for those of you who are indeed influencers and celebrities on social media.
If you are ready and meet the requirements, you can register immediately. For how to register yourself, we have discussed it in other articles on this blog, you can click the following link.
Conclusion
That's a little information about the requirements to become a partner or partner of the Shopee Affiliate program, as well as profit calculations.
Thus the article about Types of Partners for the Shopee Affiliate Program and don't forget to keep visiting the Infokekinian website.
Because we also have a lot of other information and recommendations which of course will be useful and help current friends.