Infokekinian.com – Contemporary friends, do you want your Instagram feed to be cool? this is an Aesthetic photo editing application. So see this article to the end to find out more complete and clear information.
Instagram is a popular social media platform with a large user base. The potential is clearly enormous, both for brand promotion, commerce, or simply as a platform for communicating with friends.
Instagram views, which are also known as feeds, play an important role in Instagram marketing strategy, especially in attracting the attention of other users.
Others will want to follow your Instagram account if your content is interesting and your feed is well organized.
The more followers you have, the more opportunities you have to reach a larger audience; there is also a possibility that the brand will want to collaborate with you. Not bad, earn extra cash.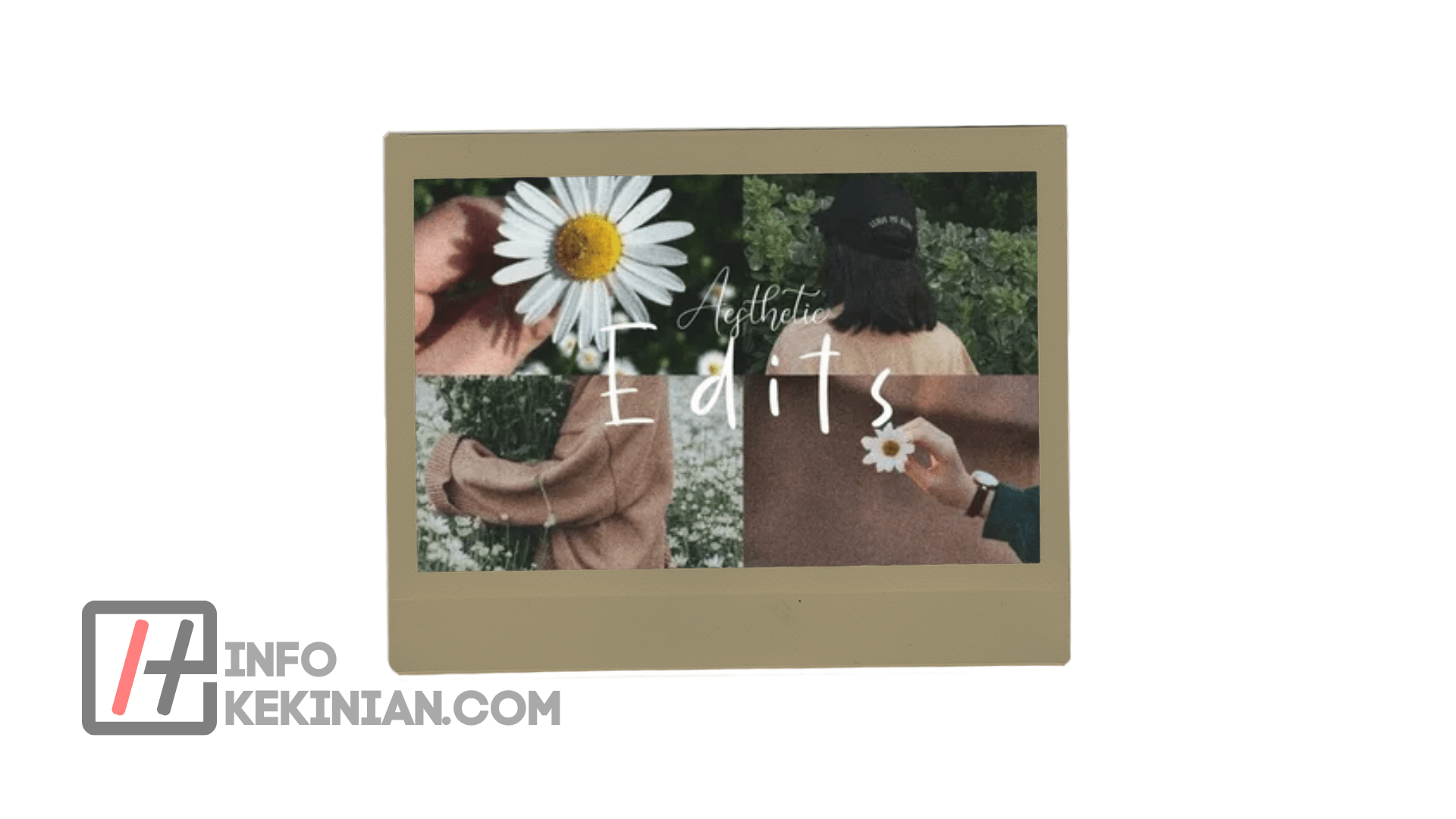 Over the last few years, I have become a regular Instagram user. My content mostly consists of photos taken when I travel to different locations.
I often use a lot of aesthetic photo editing tools for Instagram feeds to make photos look more attractive.
Aesthetic Photo Editing Application
Here 7 aesthetic photo editing application for Instagram feeds that you can download for free on Android and IOS cellphones:
1. VSCO, edit photos with moody filters and tones
One of the Instagram photo editing applications that I often use. Why? Because its use is very easy.
In app VSCO There are already filters or presets that can change the tone or color of a photo with just one click.
It's just that the presets provided for free by VSCO are quite limited. So if you want to use another, better preset, you have to pay more to become a member.
How to edit photos using the VSCO application, import the photos you want to edit. Then go to the edit section and just select the desired preset.
You can adjust the strength of the preset by sliding the bar to adjust the color. The VSCO application also has standard editing features such as exposure, contrast, crop, sharpen, clarity, saturation, white balance, vignette, and fade.
I personally like the moody preset colors and also the clarity feature from VSCO which makes photos sharper.
Because it's quite easy to use, this application is more suitable for beginners who want to edit photos so that they look aesthetic.
2. Snapseed, remove unwanted objects
The Snapseed application is suitable for basic edits such as brightening dark photos, increasing photo saturation, and more. I think the color change is more natural.
Even though Snapseed has filters that you can use with just one click, the filters in Snapseed are not that good. So I rarely use filters in the Snapseed application.
To edit photos in this application, open the photo you want to edit. Select "tools" and "tune image".
Swipe up and down to select editing features; brightness, contrast, saturation, ambiance, highlights, shadows, warm.
Then swipe right and left to increase or decrease according to the feature you choose. In the "details" section, you can edit the structure and sharpening as well for the sharpness of the photo.
The best feature of the Snapseed application that makes me often go back and forth to this application is "healing". With this feature you can delete or remove unwanted objects.
Examples like the image below. The ocean photo is okay, but I want to delete the people in the photo. All you have to do is click on the part you want to delete, so the photo is clean.
I also like the "selective" feature which is used to edit certain areas of the photo.
3. Lightroom Mobile, an easy photo editing application, just use presets
Next, there is an Instagram feed photo editing application so that your photos look more aesthetic, namely Lightroom Mobile which is very popular with content creators.
The editing features in Lightroom Mobile are more complete, so if you are just starting to learn to edit photos, you will definitely be confused at first. Hard to say, not really. Especially now that there are lots of lightroom tutorials on Youtube.
The reason the Lightroom application is so popular is that you can save the presets you have created and apply them to other photos.
You can also buy Lightroom presets so you don't have to bother editing, because with just one click your photo can change immediately.
The most interesting feature of the Lightroom application that other photo editing applications do not have is the "color mix". With this feature you can edit according to color; red, yellow, blue, green and others.
4. Canva, you can design anything you want in this application!
The Canva app is a little different from other apps in that it's not used to change the color or light in a photo.
The Canva application is more used for designing IG Posts, Stories, banners, and more.
I often use Canva to design feature images on blogs. You can see in my previous post or article, I designed the cover using Canva.
This application is very helpful especially for those who are not too good at design because they have provided a finished template that looks aesthetic and you can edit it as you wish, complete with fonts, elements and other photos that you can use.
I myself prefer to use the Canva application on the direct site using a laptop, but you can also download the Canva application on an Android or IOS cellphone.
5. Afterlight, an application with photo editing filters to make it aesthetic!
Similar to VSCO, the Afterlight aesthetic photo editing application also provides filters or presets that can be used but are limited.
You have to upgrade your membership so that you can use the features in this application freely.
Free editing features in this application include: brightness, contrast, vibrance, hue, fade, vignette, exposure, saturation, temperature, tint, sharpening, highlights, shadows, highlight tines, mid tones, and shadow tones.
6. BeautyPlus, an application for adding make-up!
So, for girls who like selfies who want their faces not to look too innocent. Try the BeautyPlus application.
In this application you can add make-up like lipstick, eyebrow, eyeshadow, and blush.
Before judging, ah using this application means deceiving other people. Let's just be open-minded, what's the difference if you use the same make-up too, hehe.
As long as you don't edit too much. The filter color is also more feminine.
7. Unfold
Usually I use the aesthetic photo editing application Unfold for posting IG Stories.
In this application you can easily add text or sentences, combine several photo collages. The design is also simpler and minimalist.
Photo Editing App to Take Photos in the Dark
Of course, if you take photos in the dark or at night, you're always bored. The problem is the photo is dark, if you use flash it's not good either.
There are 2 applications that I usually use to take photos in the dark, namely:
1. Dazz Cam, suitable for use in the dark
With the Dazz Cam application, you don't have to worry anymore about taking photos at night. How to use this application is the same as taking photos on a cellphone camera as usual.
Turn on the flash through the application for better photo results. You can choose 4 types of cameras using the free version. What I often use is D Classic and Inst C.
The results of the D Classic photos are like those of a film camera. Meanwhile, Inst C is more like a polaroid photo. In addition, you can also take videos with this application.
2. HUJI, edit photos using this application so they look like film photos!
The HUJI application is also used to take photos in dark conditions. Similar to Dazz Cam, only in the HUJI application the results are just like a film camera.
Sometimes it's interesting to see the shots from this application because usually the resulting flare or red light varies.
The Application Sets Instagram Feeds To Make It More Aesthetic
As I said before, the Instagram feed is very important because it is what other Instagram users see first.
To make the feed look more attractive, you can use this application to arrange the placement of photos before uploading them to Instagram:
1. Planoly
Planoly is an application that is used to plan posts or content on Instagram. With the free version, you can upload a maximum of 30 photos or posts for a month.
In this application you can adjust the location of the photos so that the feed looks more attractive. There is also a scheduling feature to post on Instagram automatically.
I suggest that if you want to become a social media marketing specialist, sell online, or are a content creator, you should use the Planoly application to plan posts on Instagram.
2. Previews
The Preview application is also an Instagram planner application that aims to plan posts on Instagram. You can use this application for free with the condition that 1 user 1 device.
The advantage of the Preview application is that you can upload as many photos as you want, aka unlimited. In this application you can edit photos as well, add appropriate hashtags, schedule Instagram posts, and more.
Conclusion
That's a little information about some recommendations for aesthetic photo editing applications, which you can download for free. And very useful for beautifying your Instagram feed.
Thus the article about Want Instagram Feed to Be Cool? This is the Aesthetic Photo Editing Application and don't forget to continue to visit the Infokekinian website.
Because we also have a lot of other information and recommendations which of course will be useful and help current friends.